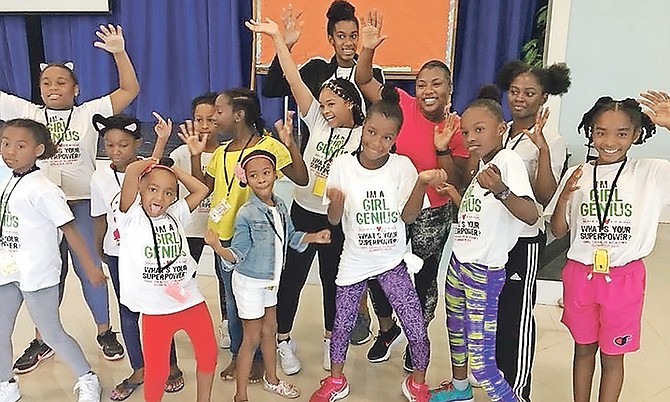 By ALESHA CADET
Tribune Features Reporter
acadet@tribunemedia.net
It's a wrap for the Girl Genius Academy's Summer camp, as the young participants head into the remainder of their vacation with new-found inspiration, creativity and self-esteem.
"Igniting the genius in every girl" was the theme for this year's camp which is geared towards young ladies ages seven to 16.
Campers were treated to a wide array of activities involving everything from arts and crafts to health and fitness, lessons on environmental awareness, survival skills training and cooking classes. They were treated to career days, to learn more about beauty, journalism and foreign languages. Then there were the drama classes, as well as classes on family values, financial investments, photography and entrepreneurial skills.
Presented by Trinity Publishing, the one-week camp held at the St Andrew's School was jam-packed with many exciting presentations, with each day having its own theme. For example, the first day of the camp was "Love Your Selfie" day, and was mainly geared towards self-love. On this day, the girls got an opportunity to chat with former Miss Bahamas and beauty consultant Nestasea Sealy, who spoke on the topic of inner and outer beauty, and tips on how to take care of your appearances.
Philippa Perpall-Ferguson, founder of the Girl Genius Academy, said the young ladies also learned about displaying self-confidence in front of the camera with photographer Davina Knowles. Then, they all painted a self-portrait using words of affirmation on how they viewed themselves.
"All of the presenters this year are women, as we try to model to the ladies what women can accomplish when they realise their fullest potential. As an educator I saw first-hand the needs of our young ladies. They didn't know their value, lacked confidence and determination. I could recognise the potential of these young ladies, but they just needed that initial spark to be set on fire and living in their purpose. Girl Genius was designed to bring out what already existed," said Mrs Perpall-Ferguson.
She believes the programme also allows the participants, who organisers refer to as "geniuses", the opportunity to interact with students from different schools religions and socio-economic backgrounds.
"This is our second year of the Girl Genius Academy, and it is an invigorating feeling to have seen my dream of giving back to our community. I think about women who have poured into my life over the years - Marie Perpall, Patrice Webb, LaVaughn Sands, Kelcine Hamilton, Remanda Seymour, Eloise Major and Kayren McPhee - and how they ignited the genius that I am today through their dedication and mentorship. I feel proud to be a part of the village raising these girls. I feel even more proud when many of the presenters of the camp are former students that give back their time and talent to do the same thing I as an educator did for them, ignite the fire," said Mrs Perpall-Ferguson.
For her, the Girls Genius Academy is a "pay it forward" initiative; an event geared to guide young women to where they need to be in life - empowered and motivated. With social media and television often showing negative and inappropriate behaviours, Mrs Perpall-Ferguson said it is important to do your part in keeping events like this existing and growing.
"The sooner you realise your potential, the probability of you living your full potential is greater. The young ladies who attend this camp are encouraged to realise their self-worth and gain confidence," said Mrs Perpall-Ferguson.