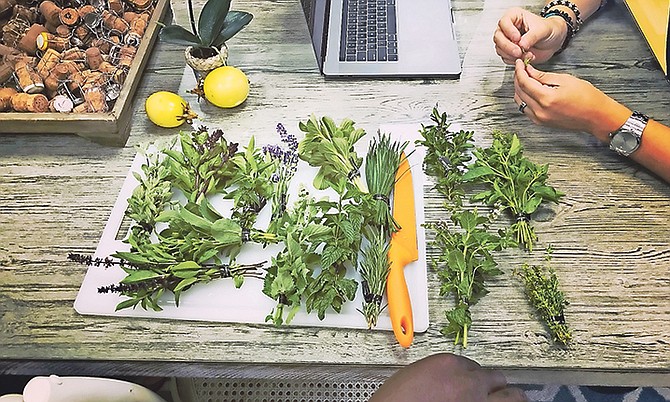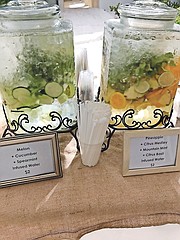 By ALESHA CADET
Tribune Features Reporter
acadet@tribunemedia.net
We all know that we should be drinking water instead of all those sugary beverages like sodas and juices.
However, drinking plain old water can get a being boring after a while. Sometimes we just crave something with taste. Enter the infused water trend - a relatively new movement which adds a tasty, and often healthy, kick to any glass of water without any of the added calories.
While the Bahamas has developed many home-grown brands offering pure drinking water over years, infused water as not really been a big deal...until now when a local company has to decided to hop on the infused water train and give it a distinctly Bahamian flavour.
The landscape company Green Leaf Farms has created new infused water products that include everything from fruits to locally grown herbs.
Antonio Hall of Green Leaf Farms told Tribune Health that infused water is now seen as a fun way of drinking water dense in vitamins and nutrients.
"We specialise in growing at any given time over 20 varieties of culinary herbs, and as a result of that we wanted to display the versatility of some of the herbs we grow. We first showcased our herb-infused water last year at a farmer's market during the peak of Summer and at first it was just a unique way to cool off, however, the water became a hit and we began developing more flavours," said Mr Hall.
At Green Leaf Farms, located in the South Beach community, you can find everything from culinary herbs, micro herbs, micro greens, to edible flowers. Moreover, in an effort to create a "zero wastage" site, the team recently launched the company's herb-infused line of products which includes herb-infused extra virgin olive oil, herb-infused wine vinegar and herb-infused local sea salt. Each product comes in a variety of flavours to choose from.
"Our goal here is to continue making an impact on the agricultural industry and continuing to provide the best. In the near future we strive to be the best boutique farm in this region and hope to continue building healthy relationships with top chefs and quality restaurants in the country. We also see a continued evolution of our herb-infused products in the future," said Mr Hall.
When asked about the health benefits of the Green Leaf Farms' infused water, Mr Hall said it generally includes a boost to the metabolism and flushes toxins. He added that the benefits vary from flavour to flavour, depending on which fruits and herbs are paired together.
For example, he explained, the citrus medley and citrus basil flavour is a great source of vitamin C, vitamin B, calcium, magnesium, potassium and fibre, and also aids in digestion. The berry rosemary flavour, a popular choice at Green Leaf Farms, is said to be a great source for antioxidants and boasts anti-inflammatory compounds; it also stimulates blood circulation. Additionally, flavours like papaya, pineapple, sage, melon cucumber and mint are also full of nutrients and vitamins.
"Customers always want to know what flavours are coming out next and where they can purchase bottled Green Leaf Farms Infused Waters. At this time we only offer our herb-infused water at various farmer's markets and events. It is not available at any retail locations yet. Our plans are to continue to work towards expanding our reach throughout the Bahamas. We intend to outgrow our current space by mid-2019, forcing us to expand onto a larger parcel of land so that we continue to supply the demand for the freshest unique products," said Mr Hall.
He believes it is important for Green Leaf Farms to be visible in the country so that Bahamians understand they can purchase quality products and ingredients locally.
"Our herb-infused water is just a spinoff of what Green Leaf Farms is all about - we are innovative and different in our way of thinking, living by our motto which is to 'Be different. Live different. Grow different'," said Mr Hall.