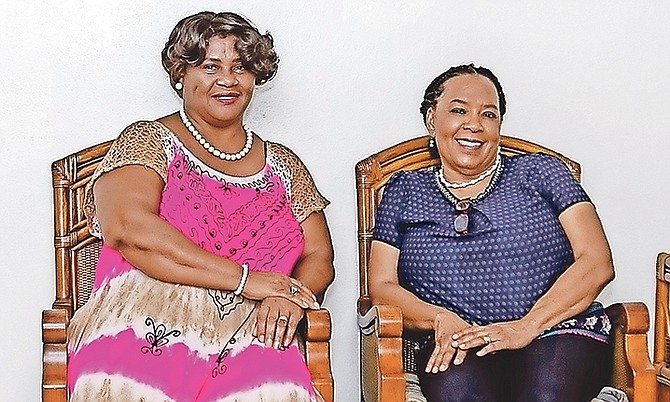 "A godsend" is what Francis Friends calls the assistance of the Cancer Society of the Bahamas, whom she credits with making her husband's treatment and recovery process as comfortable as possible.
She said she is incredibly grateful for the service they provide in offering treatment and housing facilities for cancer patients from the Family Islands.
"Without the Cancer Society being here, most definitely my husband would be back in Eleuthera trying to battle this out from a distance, and perhaps we wouldn't be looking at this bright outcome we have now; it would be much dimmer," said a grateful Francis.
She and her husband Walcot Friend have been married for 40 years. He was diagnosed with rectal cancer in April this year. In the short time since, he has already undergone 18 rounds of radiation.
"When my husband came to Nassau, there were no beds available at the Princess Margaret Hospital. Even the theatre wasn't available for the urgent surgery that he needed. The doctor looked at me and said, 'Mrs Friend, your husband needs to have this surgery like tonight, and the only option is Doctors Hospital.' And of course without insurance that's a costly venture."
Despite their financial struggles, Francis and her husband survived what she called their "Job experience", thanks to the help from the Cancer Society, which receives crucial funding from CIBC FirstCaribbean's annual 'Walk for the Cure' campaign.
"I asked God, 'Is this my Job experience – are you testing my faith? The Cancer Society was a godsend. It relieved a lot of emotional and financial stress, and I'm able to just be the caregiver to my husband that he needs," said Francis. "There's no worry here – it's a home away from home. Everything is easy-going and all of the staff is amazing. We've come here and we've been welcomed like family. Everything you need is here and it's all provided for free."
Francis' husband was in hospital for five days after his initial surgery, and since then the Cancer Society has provided a warm, stable environment conducive to the recovery process. The organisation assists in both treatment and financing for Mr Friend, as they do with countless other Family Island residents who have been diagnosed with cancer and must seek treatment in New Providence.
"He is emotionally stable due to this environment, because he feels like he's at home. It's like the Garden of Eden. That's why it's so important for this facility to be here. Once you leave home you're not really prepared financially or emotionally to be in a hotel or even with relatives at times, because there are times when you want to be by yourself. I can't express how important this place is for people from the Family Islands. Even if you stay with relatives, you have to bear in mind that often they're working people, so sometimes it's difficult for them to leave work, take you to your appointment, or assist you with going to the bank or the grocery store. All of that is provided here free of charge," said Francis.
Of her husband and his experience, she said: "He is a man of God, and he's very positive all the time. He was physically fit when all of this came about and I thank God for that, because his body has been able to sustain him through this. I'd like us as Bahamians to consider our health. We need to be physically fit, so when cancers or other illnesses attack us we're able to fight them off with a positive outlook and mind set. It's been trying at times, because my husband is 80, and he's now suffering from slight dementia as well as going deaf in one ear, but I've learned over the years to be patient with people. My mom is also 86 and has one leg, so I've been through a lot with her, and God prepares you for whatever you're going to face.
"My journey has always been in taking care of the elderly, so I think I'm more prepared than most to deal with what we're going through now. I think God has prepared me well."
CIBC FirstCaribbean's Walk for the Cure will take place on Saturday, October 6, in Nassau, Grand Bahama, Abaco and Eleuthera. Proceeds will once again go to various cancer organisations throughout the country, including the Cancer Society of the Bahamas.
To register or donate, e-mail WalkForTheCureBAH@cibcfcib.com or contact walk manager Nikia Christie at 302-6063.