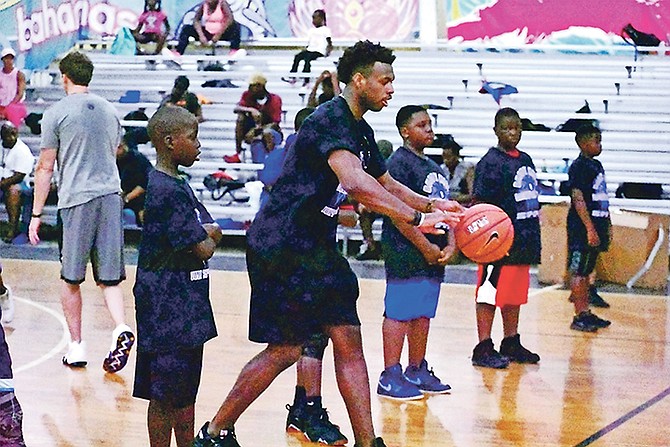 By RENALDO DORSETT
Tribune Sports Reporter
rdorsett@tribunemedia.net
Buddy Hield is back in Grand Bahama to host the fourth edition of his Summer Basketball Camp.
The third-year Sacramento Kings guard is hosting the three-day event simultaneously in Freeport and Eight Mile Rock, Grand Bahama.
The camp began yesterday with the opening session for 8-12 year-olds while today will feature teenagers 13 years and older 9am to 12pm at Jack Hayward Gymnasium.
Each morning session will be followed daily by an afternoon session 4pm to 7pm daily at the Pinedale Park in Eight Mile Rock.
"It's a blessing. As I plan the offseason I always plan to put this in my camp schedule. It's always important to be back home and to give back to the kids and the community. I know what it's like growing up here so being a role model for these kids, giving them a chance to learn something important, something they can take advantage, it's a priority for me," Hield said.
"I thank God every day for blessing me, being able to use my platform to show these kids what it takes to get to the next level. Hopefully, I can inspire a few to be the next ambassador of the Bahamas whether it's in basketball or some other field."
During the limited time with the camp participants, Hield stresses the importance of skill development to accompany the natural athleticism of many Bahamian athletes.
"We are putting them through the basics, ball-handling, passing because it's more skill work we need to work on. We're already athletic but we need to work on skill the most. Your skill work goes further than anything.
"I feel like everybody who works out kids at home, the main thing we need to focus on is not just how tall or athletic they are but to work on their skills. If you have skills, if you can pass the ball, shoot the ball, dribble I think you can do whatever you want to do in basketball and we have to get kids to play the right way. We have guys that can play athletically with the best, but it's the skills that set us back," Hield said.
While the skills development is key for student-athletes in their respective age groups, the community atmosphere at Pinedale Park continues to be a segment of the camp Hield places a special emphasis on.
"Eight Mile Rock camp is home for me, it's where I grew up and it's always fun to go back there. It's like a different type of air down there. It's good vibes, people there are always cool and I'm always excited to get back there," he said.
"There's where I really started on this path, on the park, grinding in the hot sun...that was the life and I really appreciate my upbringing. Just trying to inspire these kids because if I can make it they can make it too, they just have to put God first, believe in themselves and anything is possible."
Luke Barnwell, coach at Sunrise Christian Academy in Wichita, Kansas, makes another visit to the Bahamas to assist Hield with the event.
"This is my sixth time here in three years. This is always one of the fastest weeks of the year and one of the most enjoyable weeks of the year to be with Buddy back where he's from, to hopefully groom a couple more kids and show them that they can do it from here and give them some stuff that they can work on," Barnwell said. "There's enough ability here, we just need to create an environment where they can take some basic things and get better at those. I'll see a kid one year and when I come back he's better than the year before, that's really what you want to see. The things that we can do with them these three days hopefully they carry on for the next 51 weeks, we see them the next year and they're better."
Members of Hield's personal training staff, including Trey Slate, also made the trip to Grand Bahama. "It's great to see Buddy come and give back to the community. It's something he always talked about when we were at OU together so it's cool to see that happening and you don't find that in a lot of people.
"A lot of these kids have spent time working and getting better and it means they have enjoyed the camp and they want to get better," he said. "We want to show them the process. A lot of the things they are doing is what Buddy does especially in the ball-handling and shooting round so it gives them some insight into the hard work because it was never easy for Buddy. He spent a lot of time getting better working behind the scenes."