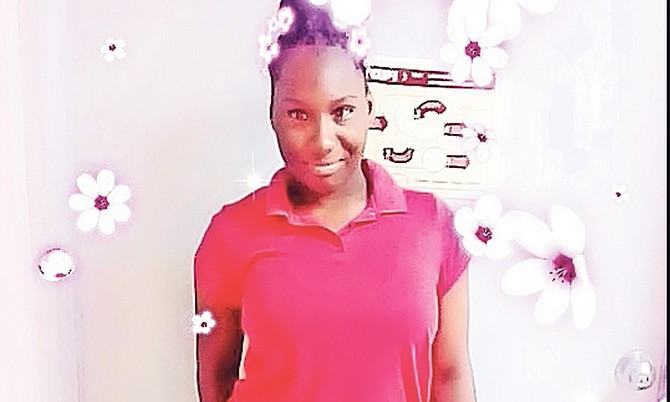 By RICARDO WELLS
Tribune Staff Reporter
rwells@tribunemedia.net
ACCESS to potentially life-saving medical treatment for a 15-year-old girl suffering from brain lesions has been blocked due to her irregular immigration status that bars her from travelling to the United States, her family says.
Reader poll
219 total votes.
Her mother, Ginette Caty, 34, was naturalised as a Bahamian citizen in 2013 but her daughter Taranique Thurston will have to wait until her 18th birthday before she can apply for Bahamian citizenship. 
However, Ms Caty believes the life and long-term well-being of her daughter is being risked everyday she is kept away from several authorised scans and treatments at Jackson Memorial Hospital in Florida.
Taranique has been diagnosed with a brain cyst.
She was due to have treatment yesterday but it has been delayed because of her status. Jackson Memorial Hospital agreed to postpone her treatment until her travel status could be resolved.
Due to her mother's naturalisation process, Taranique is currently registered in the Bahamas as a non-Bahamian born to a foreign mother and Bahamian father, who are unmarried.
Ms Caty is urging immigration officials to review her daughter's status as she is currently barred from travel to the US due to her lack of a valid passport.
Ms Caty, born in The Bahamas to two non-Bahamian parents, says she applied for citizenship in 2000. However, she was not granted status for more than a decade – by which time she had already given birth to her three daughters.
She claimed that prior to her naturalisation, she also applied for status for each of her children, but said officials informed her that under the law, her daughters, like her, would have to wait until the age of 18 to apply for citizenship.
In the interim, her daughters were granted travel documents, which they were able to use to apply for American visas.
However, she claimed once those documents expired, she was instructed to register her children for both a Belonger's Permit and a Certificate of Identity.
The US government no longer recognises those documents, and their official use has since been discontinued in accordance with the immigration policy introduced by the former Christie administration.
The November 2014 policy mandated that every person living in the Bahamas hold a passport of their nationality with proof to legally reside in this country, among other restrictions, like the requirement for every foreign person enrolled in schools, including children born in the Bahamas to immigrants, to have a student permit.
Children born here to non-Bahamian parents and entitled to apply for citizenship at 18, were instructed to apply for the citizenship of their parents until then to comply with the new policy.
However, human rights groups argue the policy disproportionately affects the children of Haitian migrants, the country's largest migrant population, due to the state's protracted and seemingly arbitrary processing of citizenship applications.
Both Taranique's Certificate of Identity and Belonger's Permit were issued in 2013.
Plea
In an emotional interview with The Tribune, Ms Caty issued pleas for understanding and support for her daughter's condition.
"My child is Bahamian, this is all she knows as home. I am asking the government and immigration to do the right thing and help me and my family to get my daughter the help she needs," she said.
"Her life is on the line and she needs the proper medical attention. The doctors here have already told us that they can't do anymore because of their limited equipment.
"The referral is done. The doctors in Florida are waiting to assist. We just need to get her a valid passport, to get a valid visa to get there," she added.
In a letter written on behalf of Ms Caty and her daughter, consultant neurologist at Doctors Hospital Dr Clyde Munnings wrote to Acting Director of the Department of Social Services Lillian Quant-Forbes. He acknowledged he was responsible for her treatment to date, but insisted the teen needed to seek further attention in the US due to a lack of a specialist paediatric neurosurgeon locally.
The letter dated April 18 notes: "Taranique Thurston is under my care. She was seen in my office today. She needs care in the United States of America; specialist paediatric neurosurgeon is not available in the Bahamas."
The doctor said the teen needs a MRI brain scan on a machine not available locally. "Arrangements are being made with Jackson Memorial Hospital," the doctor wrote.
A completed treatment application for Jackson Memorial Hospital was also presented to The Tribune.
Wiping back tears, Ms Caty said: "If there is anyone that knows the struggle of the immigration process and the problems that come with it, trust me, it's me. I (was) waiting my whole life to be a Bahamian."
Holding up her Bahamian passport, she continued: "I went nights hungry trying to save up the money needed to pay for this. For years and years and years, I pushed for this, begged for this, hell, it took so long, I would pay people just to check on my application and to make sure it was still there.
"Through God, I finally got it, but my children, my Bahamian children deserve better. They deserve to avoid the label of unwanted Haitian child. They aren't unwanted. They aren't Haitians. My babies are Bahamian-born children born to a (naturalised) Bahamian mother and a Bahamian father.
"I look at my daughter every day and I worry that this process could kill her. She doesn't deserve this," Ms Caty said. 
Attempts to secure comment from immigration officials were unsuccessful up to press time.