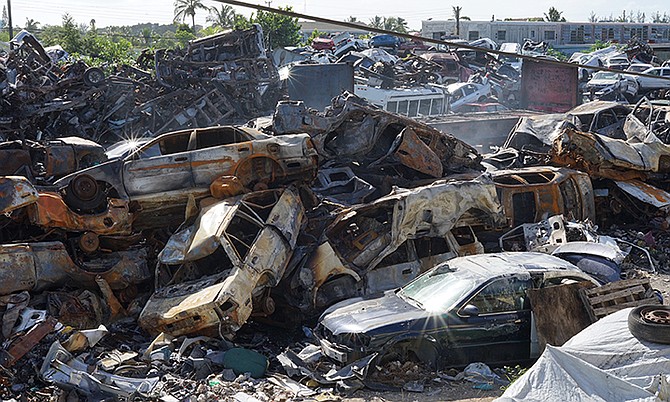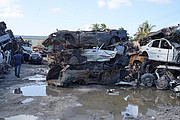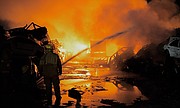 By MORGAN ADDERLEY
Tribune Staff Reporter
madderley@tribunemedia.net
A FIRE erupted at the Strachan's Auto compound on Soldier Road late Sunday night where more than 200 cars were said to be ablaze.
Yesterday, Police Fire Services chief, Superintendent Walter Evans told The Tribune that officials received reports of the fire shortly after 9pm.
The initial fire truck that responded met a "large number of vehicles" aflame.
Subsequently, all units in New Providence were called to assist with the blaze, including off duty officers.
"We formulated a strategy to prevent the fire from spreading toward the buildings, the homes on eastern side," Supt Evans said. He added that some of the closest homes were 50 feet away.
Firefighters also had to contend with Bahamas Power and Light electrical lines. Power was turned off, while Water and Sewerage assisted by increasing water pressure in the area.
After about two and a half hours, the flames were brought under control.
According to Supt Evans, approximately 200-250 cars were on fire. When asked for a total number of cars in the compound, he could only estimate "much more than that" figure.
He said the cause of the blaze is still being determined at this time. However, there were no reported injuries.
He added that information about the fire is being "transferred to the relevant agencies" on behalf of the effected homes and businesses in the area.

This blaze occurred a little over five years after another "inferno" took place at the junkyard adjacent to the auto shop.
According to police reports, around 4.30pm on June 24, 2013, firefighters found "several areas" of Strachan's Auto property, containing a large number of derelict vehicles, engulfed in flames.
Five fire trucks battled the flames which were fed by hundreds of scrap cars in the auto shop's junkyard and threatened several homes nearby. The fire was brought under control around 11pm.
At the time, residents said the scrap yard, which has been there for over a decade, had caught fire "some two or three years" earlier.
On June 26, 2013, then-Garden Hills MP and Speaker of the House of Assembly Kendal Major said he was in talks with the owner of Strachan's Auto.
Dr Major expressed concern about the smoke damage to nearby houses, any health issues caused by the fire and smoke, and said he was planning a meeting with the owner about the possibility of relocating.
At the time, Dr Major said the owner was "very much interested in aligning with the government about possibly relocating".
Photos: Terrel W Carey/Tribune Staff