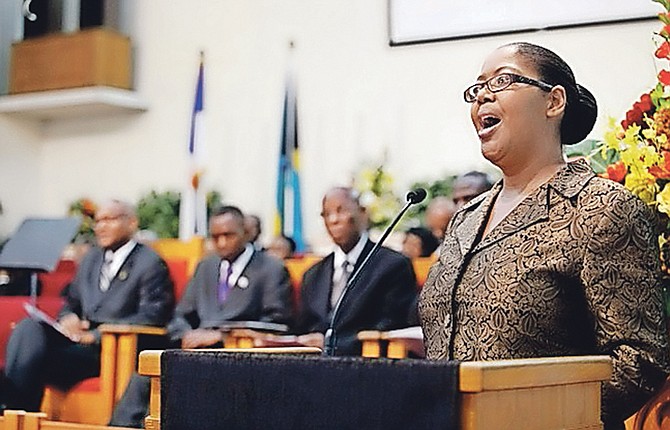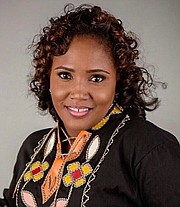 By FELICITY INGRAHAM
When I sit down face to face with people from all walks of life to interview for this column, the greatest impact usually happens during the interview; some "aha" moment when I understand someone's purpose or vision, or when I am inspired by their story. With Allison Marette Rolle, the experience was different. She did share inspirational stories of her journey, both professional and spiritual, but her humble, quiet spirit did not lead on to the power of her gift. It was not until after the interview when I went into the car and played the CD that she graciously gave to me that I was blown away.
Allison Rolle has a voice that carries the spirit and the feeling with it. I experienced her latest project, a pre-release which serves as an intro for her album, which will be released later this year. When it was done, I played it again, and then a third time, singing along this time. I then understood what those who have experienced her in concert spoke about – when she ministers through song, you feel her. Then, I understood her better.
Sitting in her home with her husband Roger did not lead on to the greatness of her spirit as much as her songs did, because she is reserved and polite. However, when she sings, she comes alive and touches hearts in a unique way. The two tracks, Abide with Me and Just A Closer Walk, were produced and arranged by Antonia N Wilson and were recorded, mixed and mastered by Vanquish Studios in Davie, Florida. Roger, her promoter and marketer, served as executive producer for the project, which gives a glimpse into the anticipated full album.
Allison said: "This project celebrates the faithfulness of God as reflected in John 15:7 which declares, 'If you remain in me and my words remain in you, you will ask whatever you desire and it will be done for you'. I have witnessed the hand of God in my life throughout the years and my friends, what He has done for me, He can do for you. I am both humbled and honoured to share with you this promotional CD project featuring two captivating hymn arrangements for my upcoming album "Abide".
Allison was always spiritual, even as a child. She grew up in a Christian home under the Seventh Day Adventist faith with her father, retired Deputy Commissioner of Police Keith Mason; her mother, Mable Mason (nee Carroll) a former accounts officer with Restaurant Bahamas, Ltd; and her siblings Keith Jr, Kevin and Marisa. She experienced the Adventist upbringing not only at home and church, but also through her education, as she spent her primary and high school years at Bahamas Academy. There, she graduated president of her class and had a strong interest in music, history and religion. Her pre-school years were spent at Miss Binnie's on Mackey Street, which was popular at the time and was known for the nurturing care of the mothering owner, the late Vera Binnie.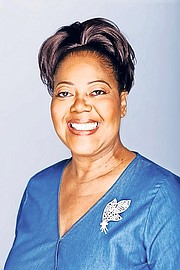 "I have been singing for as long as I can remember," said Allison.
"At home, music was a constant. On weekends as we did our chores, I was probably the chief record spinner and we would start the day with Mahahlia Jackson, James Cleveland, Mario Lanza, Voices of Hope, Consolers and saxophonist Sil Austin. I enjoyed playing great classics by noted orchestras and listening to Jim Baker… my favourite is There is a River.
"I was singing around the house all the time, listening to music while working. I remember when my parents bought a piano for my sister; when her interest waned, I took to the piano and I ended up teaching myself to play. I took whatever theory I learned at school and applied it at home. I would play for chapel services and groups and I still now play occasionally in my church, the church of my childhood, Centerville Seventh-day Adventist church."
This began a lifetime of ministry that Allison continues today. She went from playing for church and school events to singing all over the world, including in Africa, Europe, the United States, Canada and the Caribbean. The very first album she participated in was with Centreville Youth Choir under the direction of Gladstone Adderley, who led the young singers to the production of their first full album. She was also a member of the Bahamas National Youth Choir under the direction of the late Cleophas Adderley, where she had the opportunity to participate with solo parts from time to time.
While attending Oakwood University in Huntsville, Alabama, Allison travelled extensively, representing the school as a member of the then Oakwood College Choir. She had the opportunity to perform at Carnegie Hall, an event still etched in her memory. She has performed alongside greats like renowned Pastor Wintley Phipps (Baritone) and international vocal artists Michael Harris and Charles Huggabrooks.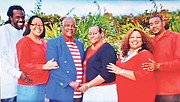 When her son, Trevor Anthony Mitchell Jr was playing baritone in the Bahamas National Youth Orchestra, she was afforded the opportunity to travel with them to South Africa as a chaperone, but ended up singing for the South Africans as well. She has been featured as a soloist with the Highgrove Singers, directed by Adrian Archer; the Breath of Life quartet; the Meistersingers; the Region Bells; and she was instrumental in reviving the Ministry of the Community Choir in North Andros, now known as the North Andros United Choir.
Back in 1999, Allison recorded the album "My Faith" on cassette, produced by Chris Fox and Tight Tunes Inc, featuring songs like Battle of Jericho, My Faith Has Found a Resting Place, God Will See You Through and March on Bahamaland, the latter being her highly requested rendition of the national anthem. She also produced an album called "Ray of Faith" including her rendition of Swing Low, Sweet Chariot, produced and arranged by Edison Rolle and distributed by Powerpointe Management Recording.
She is also featured on the Legacy album released in commemoration of the 30th year of Bahamian Independence. The album, spearheaded by Creative Soul Entertainment, showcases "thirty years of Bahamian gospel music from 1973–2003" with the motto: "March on Bahamaland". Allison appears along with Bahamian gospel greats such as the New Inspirational Sons of Joy, Shekinah Bahamas, Christian Massive, the Gospel Impressions, Marky Marx, the Region Bells, the Cooling Waters, system 3 and many others.
Allison remembers the childhood moment of epiphany that sparked what would be a lifelong love of music: "This particular evening I was lying under the stereo listening to Mahalia Jackson… there was something about her music that always resonated with me. In my mind, her work is timeless and the conviction, passion and richness of her voice, and her interpretation of songs moved me deeply. I found myself drenched in tears under the stereo. I was about 13 years old, if that much. From then on, I knew that I had a call on my life for music ministry and I think my parents knew it too. I said a prayer to G and said 'Lord, if you are going to call me to sing, I am not asking you for a voice like Mahalia's, but the soul, the spirit'… and today many people say to me that they are reminded of her through my work."
As an ordained Deaconess in the Seventh-day Adventist church, Allison has served in the prayer, women's and music ministries. She credits Lee Callendar, vocal coach, with guiding her during the past 12 years as she progressively honed her craft. He has also accompanied her as a pianist during some of her many charity concerts and events.
She is a Psalmist who has spent much of her time evangelising – working along with pastors as they call on people to accept the Gospel. After the service, many of them have come up to Allison to let her know that because of her singing, they were even more convinced to make the bold step to give their lives to Christ. Allison admires the work of local artists like Joann Callendar, Johnathan Farrington, Kenyatta Taylor, Nehemiah Heild and Minister Emily Williams, formerly Sweet Emily. She enjoys Bahamian music, particularly Rake 'n Scrape, especially the work of Ancient Man. She considers herself blessed to have had talented Bahamians accompany her during her performances such as Raymond Antonio, Eddie Rolle, Nelson Dorsette, and most often, Aaron Neely. Outstanding musicians in her family include the well-known steel pan-playing and singing family – Komal Smith and his children Bernadette, Wayne, Romal and Megan.
But music and ministry is just one aspect of her well-fulfilled life. Allison is a veteran civil servant who will be retiring soon to enter full time into her singing career, with offers to do work abroad already in the pipeline. Her husband, Roger, will be at her side to promote and support her, noting that thus far, artists like Allison offer much more than they receive in order to sustain a full-time ministry. He also serves in church ministry and "together with God", they make a formidable team, encouraging others in the ways of Christian living. Allison has one biological son, Trevor and a granddaughter, Lilea Allyse. Together, she and her husband have nine children and six grandchildren whom they love dearly.
Allison's career in the Bahamas Public Service began in 1989 after prior experience in Commonwealth Bank, Bahamas Paper Converting Company and a stint in real estate. She was first assigned in government to the Registrar General's Department. During her time, there she was commissioned to launch the Business Names section of the Business Licencing Unit, becoming the first supervisor of this new area, moving from her position as supervisor of the Documents and Deeds section.
The August 2005 Public Service rotation exercise gave her experience in other arms of government including the Ministries of Education and Public Works, then the Cabinet Office and the Department of Public Service. She was eventually assigned to the Ministry of Foreign Affairs where she remains today. As operations manager/systems administrator with the Passport Office, Allison played a significant role in the successful upgrade of the office's electronic system in January, 2017.
"I have experienced that we have very many dedicated and professional employees in the public service," she said.
"It is true that a few employees sometimes give a poor image to the work of the public service. I just strive to work with an excellent spirit, to call a spade a spade, speak truth to power and remember that we are there to serve the public with professionalism and courtesy. We should always live with 'integrity' as a watchword."
Allison's latest CD release can be found at the Adventist Nutrition and Book Centre, Better Living Health Centre and Deli, Healthy Lifestyles Centre and Deli, and Tasty Teas on Delancy Street.