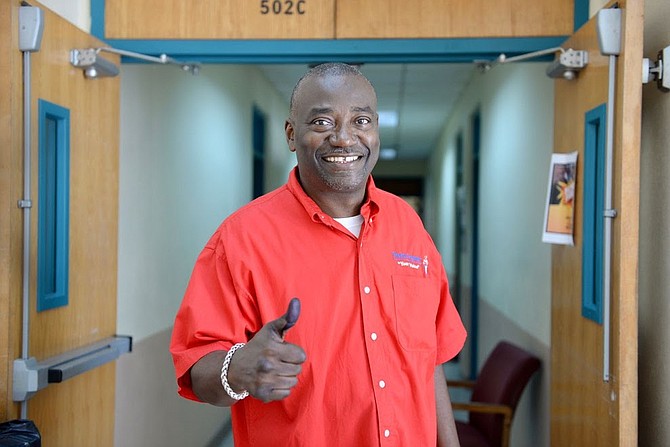 By DENISE MAYCOCK
Tribune Freeport Reporter
dmaycock@tribunemedia.net
THE death of former Free National Movement Cabinet minister Phenton Neymour - who grew up in Grand Bahama and was the son of well-known local contractor the late Basil Neymour - has left many on the island shocked and saddened.
Neymour, who had battled colon cancer, died last Monday.
On Grand Bahama those saddened to learn of his death include Minister of State for Grand Bahama Senator Kwasi Thompson and former Cabinet minister Zhivargo Laing, now a businessman and radio talk show personality.
Mr Thompson described Mr Neymour as a friend and colleague he was privileged to know and serve with, and extended his condolences to the Neymour family.
"It was sad to hear of the passing of a friend and a colleague, Phenton Neymour. I (have known) the Neymour family for many years, and his father Basil Neymour was a great Grand Bahamian and Androsian who my family had gotten to know very well," he said.
Mr Thompson said his colleague had a close connection with the people of Grand Bahama, where he was quite active in his early years and went to school.
The two became parliamentary colleagues in 2007.
"I was privileged to serve with him in 2007 under the FNM government, and he did an excellent job in my view as an MP for South Beach, as well the minister of state for the environment," Mr Thompson said.
He added that Mr Neymour came along at a time when the country had a number of young, energetic, dynamic young leaders like Charles Maynard, who died in 2012.
Both Maynard and Neymour were once members of the now defunct third party, Coalition for Democratic Reform (CDR).
"They added tremendous value to the FNM and also contributed to the victory of the party," he said.
"He was someone who I looked up to; someone who was really an inspiration. He did an excellent job as a Cabinet minister, but he also was very vocal and active for the party after he left frontline politics," recalled Senator Thompson.
"I can remember a number of times him responding to stories, making his contribution in the area of environment, and engineering. And so he made an overall national contribution. I think his voice, his intellect, and passion is going to be missed."
Mr Laing, former minister of state for finance, said Mr Neymour's death was a shock.
"When I heard it last (week) it really affected me very strongly as the first time I heard the rumours of it," Mr Laing said.
"Phenton and I actually grew up in the Caravel Street area together. He was a little older than me, but his younger brother and I were close in age, and we spent some time playing together.
"But Phenton had always been in my mind one of those authentic people who was a straight shooter. Whatever his thoughts were he was not afraid to share them," he said.
According to Mr Laing, Neymour was always a thinking person, and as an engineer, a problem-solving person.
"As a colleague he tried to get to the heart of matters, trying to address issues, there no beating around the bush with him," he said.
Mr Laing described the former politician and friend as an authentic person.
"I respected him and really valued him as a friend. He was someone who you could hang with and really have a nice chat with. His father, Basil Neymour, was a stalwart in the community in Grand Bahama and throughout the country and was a generous soul to know him. Also similarly, Basil Neymour was a straightforward person, and I think some of that clearly was a part of Phenton's trait.
Mr Laing extended his condolences to his mother, wife, and family. "I pray God will give them comfort in this difficult hour," he said.
While serving in the Ingraham administration, Mr Neymour came to Grand Bahama to help launch the government's energy saving light bulb programme/initiative following complaints about the high-cost of electricity on the island.
Through that programme, residents would bring in regular light bulbs in exchange for government distributed energy saving bulbs.
Mr Neymour was front and centre during the initiative, meeting with residents and distributing the energy-saving bulbs to residents at the Christ the King Church in Freeport.