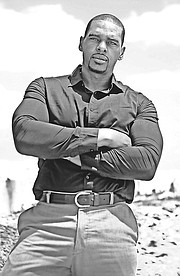 Health coach Ethan Quant, of Elite Wellness Solutions, has succeeded in his weight loss journey and now wants to share his methods with the Bahamas in an effort to foster a culture of wellness and conquer the obesity epidemic.
At one point in time I was working out with a well-known personal trainer for a brief stint. After a few short sessions he told me that he wouldn't be able to train me anymore. The reason he gave me was because he felt that I wasn't motivated enough. Typically, this can be very discouraging when you need a guide to help you along the way. Here I was, being told that as a result of my lack of motivation I had to part ways with my guide. In any event, I understood his decision and moved on with my life.
Later, when my body had already started to transform, I overheard this particular trainer speaking to another trainer about how lazy some of his clients were. He bitterly ranted about how sometimes he wished he could say to them, "Listen you big fat fatty, you aren't tired. You're just lazy. You don't lack motivation. You are just lazy. I bet if I were holding a cookie you would be able to do a sit-up." Then they both laughed. What struck a chord with me was hearing him admit that when he can't take it anymore, he tells the client that he can't train them anymore because they aren't motivated.
Automatically, my mind immediately went to that day he told me that I wasn't motivated and that he couldn't train me. All that time he was laughing at me, calling me names and teasing me behind my back because he figured that I was just fat and lazy. I didn't know at the time, but I was a victim of weight bias – a term I would only come to know through my practice as a health and lifestyle coach. Now, it is something I recognise every day right here in the Bahamas.
For the purpose of this article, let us define weight bias. Weight bias refers to the negative attitudes and beliefs about body weight. This bias is expressed in many ways - including negative stereotypes, derogatory comments, unfair treatment, social exclusion, physical aggression, cyberbullying and other forms of online body shaming.
We first have to understand the severity of this problem and its negative contribution in fighting the obesity epidemic. Weight bias creates a social injustice, unfair treatment of individuals, and a gap in communication between heath, wellness and fitness professionals and people living with obesity.
There is a great misconception that people struggle and fail to lose weight because they are lazy and lack self-motivation and self-discipline. The fact is that obesity is a very crippling disease that affects a person not just physically, but mentally and emotionally as well.
I noticed that there is a difference in the way people treated me when I was 306 pounds and the way they treat me now. If it's from the way they greet you at a restaurant or look at you when you walk into a gym, or see you simply walking down the street, or standing in line at the bank.
I know that I would have near panic attacks just thinking about going certain places for fear of how people would judge me because of my weight. Thankfully I was able to really overcome those fears and did what was needed to transform my body and my life. However, I know that there are many others still battling with the insecurities that come along with this journey. There are literally tens of thousands of people right here in the Bahamas who are suffering from this deadly disease and are not able to get the help they want and need to fight it. Unfortunately, this happens because we, as a people, are not as sensitive as we should be to weight bias and the pain it causes.
If you or someone you know is suffering, know that you are not alone and there is help. You don't have to fight your personal war on obesity alone.
If you need help navigating any aspect of your health, wellness and fitness journey feel free to reach out to me directly. Always remember, at the end of the day you have the power to be successful in health, in fitness and in life!
• Contact Elite Wellness Solutions at 677-2459 or check them out on Facebook.