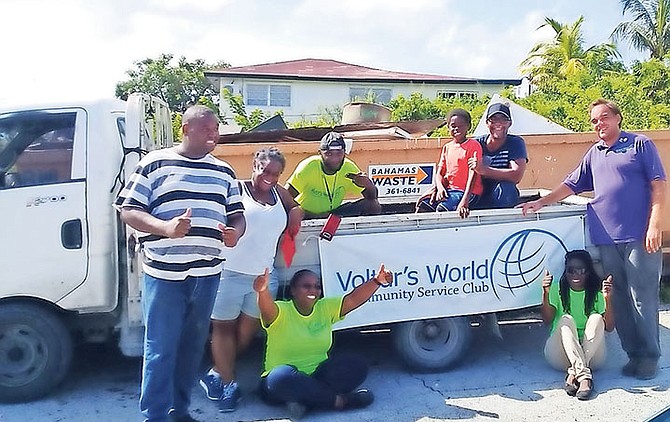 By JEFFARAH GIBSON
Tribune Features Writer
jgibson@tribunemedia.net
A clean-up campaign to give communities in New Providence a facelift continued over the weekend.
Voltar's World, a new service organisation targeting inner-city communities, has joined forces with Bahamas Waste for "Project: Exterminate the Waste".
As they rid the inner-city of waste, they hope to change the way Bahamians approach and dispose of the garbage around the homes, that will in turn help to keep the environment clean.
"The Voltar's World Service Club is proving to be of real service to many communities throughout New Providence," said Operations Manager at Bahamas Waste Ethelyn Davis.
"The efforts displayed by the team of volunteers within this organisation speaks volumes about their level of dedication through service and we are proud to support their work now and into the future."
Voltar's World is a club that is focused on serving the community at large without limitations. The club is for persons ranging from ages 18 and older. Members must be committed to the call of action to serve.
The clean-up campaign was launched in December 2017 and continued through this year. Since is launch, "Project: Exterminate the Waste" has focused its efforts on some of the island's most neglected communities, from Golden Isles to Bain Town.
The Voltar team last weekend took their efforts into the Millar Heights area where the initiative was welcomed by residents. Thanks to Bahamas Waste, the volunteers filled a 20ft dumpster with debris discarded in the community, which was removed, and the waste was properly disposed of. Over the last few months, Voltar has filled a large number of dumpsters and will continue the effort on August 18th, and in years to come.
Voltar's clean-up campaign, which is now a little over five months old, has brought together volunteers from all walks of life, all with a singular goal – to give back to the community.
"Today we moved old furniture, refrigerators, mattress and lots of debris," said Club President Craig Lowe. "I'm thrilled with the efforts of our entire team; these volunteers give up their entire afternoons to clean up other's debris – I am so proud of them."
Those private entities are not the only ones on a mission to keep that Bahamas clean.
Earlier this year, the government launched a clean-up campaign in Over-the-Hill communities as part of its effort to rejuvenate those areas. The first phase of the project impacted areas such as Nassau Street, Poinciana Drive, Wulff Road and Collins Avenue.
The rejuvenation work will involve improving the physical surroundings and solid waste management.