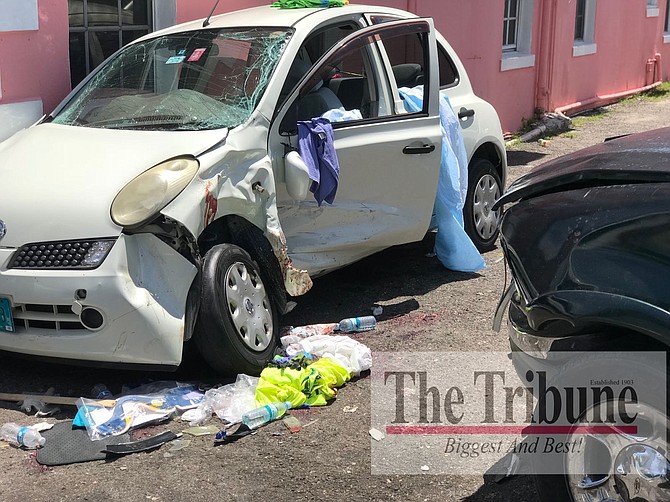 By KHRISNA RUSSELL
Deputy Chief Reporter
krussell@tribunemedia.net
PRIME Minister Dr Hubert Minnis says he plans to meet with the families of the victims who died in Friday's tragic Labour Day events.
He was previously scheduled to visit Eleuthera and Long Island this weekend. However, Dr Minnis said he will return to the capital because of the incident.
As he extended condolences, Dr Minnis pledged the government's commitment in doing all it could to assist the family members of the deceased victims along with those injured and their families.
The statement came as scores of relatives waited at the Princess Margaret Hospital in anticipation of news on the status of loved ones and friends injured.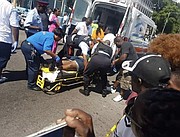 Labour Day celebrations were plunged into tragedy when a truck mowed through a crowd of people Friday morning, killing four and injuring 21. It was the first time in the country's 56-year Labour Day celebration an event like this occurred.
"Today's national holiday, marking the celebration of Bahamian workers, took a tragic turn leaving four people dead and a significant number of people injured during the Labour Day March," Dr Minnis said in a statement issued by state agency Bahamas Information Services.
"March participants, first responders, onlookers and the professional teams at the Princess Margaret Hospital worked with great compassion and urgency to care for the dead and injured. We commend all those who came to the aid of those affected by this tragedy.
"Government ministers and other officials will continue to offer immediate support and ongoing assistance.
"We are committed to doing all that we can to assist the family members of the deceased, and those injured and their families.
"On behalf of the people and government of the Bahamas, and on my own behalf, and that of my wife, Patricia, I extend heartfelt condolences to the families, colleagues and friends of those who lost their lives today. "
He continued: "Our prayers and thoughts remain with the deceased and all those affected by today's terrible tragedy.
"I was previously scheduled to visit Eleuthera and Long Island over the holiday weekend but because of this tragedy I will return to New Providence tomorrow.
"I will visit the families of those who lost loved ones and those who were injured. Later, I will give a national address.
"As our union leaders and workers demonstrated during this morning's march, we will be united in this time of tragedy and suffering.
"May God bring consolation to the bereaved at this time, and may He continue to bless our Bahamas."
SENATOR Jamal Moss posted a statement on Facebook in response to the tragedy. "As a unionist, I am deeply saddened by today's tragic events," he said.
"My brothers and sisters were injured today and others have lost their lives due to an unfortunate mishap. My prayers go to all family members during this difficult time."