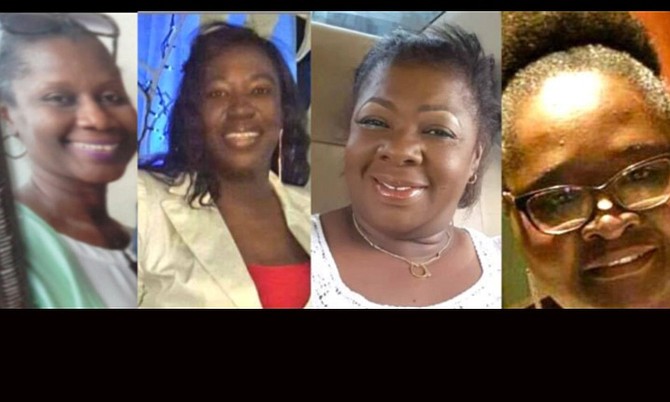 By KHRISNA RUSSELL
Deputy Chief Reporter
krussell@tribunemedia.net
and BRENT STUBBS
Senior Sports Reporter
bstubbs@tribunemedia.net
FOR triple jumper Dannielle Gibson when her younger sister Dominique called her on Friday morning while she was in the locker room at the track facility at Penn State in Philadelphia, it sounded like a script from a movie.
Soon, reality set in. Her mother, Tami Gibson, was one of four women killed in the Labour Day tragedy.
"I figured out that she was crying, saying something was wrong with mommy, but she wasn't sure," said Ms Gibson in an interview with The Tribune on her immediate return home.
"A lot of uncertainty was in the air. And I just tried my best to keep her calm and to assure her that if it was mommy, worst case scenario, she would be okay, people around so she would be at the hospital. She would be safe.
"Best case scenario, it didn't happen, nothing happened to her, so no need to worry. I was 100 percent sure that she would have been okay."
Then reality set in. It was confirmed her mother had died.
"I went into shock. I was in disbelief. I didn't want to believe it," said Ms Gibson. "What hurt me more was to hear my daddy's voice. It was so empty. I heard my brother crying, my sister crying, all my cousins and my aunts in the background screaming. It was like I was so far away, I can't do anything. I didn't know what to do. I didn't know what to say. I was so worried for them."
As the oldest of three children, Gibson, 22, said she and her mother developed an undying bond.
"I felt like over the years, I watched her grow. I don't know if many people can say that about a parent," said Ms Gibson, of her mother, a banker by profession and twin sister to Tanya Miller.
"I watched my mother evolve from being shy of being herself to be more outgoing with people in different aspects of her life.
"With us, she was always fun, always being crazy, always calling. Every morning, you would get that text about a Bible scripture verse or something. She loved us so much. We had a tight relationship."
The last time they interacted as a family was when proud parents Tami and Dwight Gibson, brother Dustin and sister Dominique Gibson travelled to Philadelphia to attend the athlete's graduation from Penn State on May 5. It's an occasion that the bio-technology major with a 3.0 grade point average said she will cherish for the rest of her life.
"I'm kind of torn because I'm happy that we got to share that experience. My brother Dustin won't get to experience that," said Ms Gibson of her younger brother, who is attending Fisk University in Tennessee. "I was happy that we were together. That was a good memory. That was the last good memory that we had together."
Mrs Gibson's death has also been a hard pill to swallow for her brother, who told The Tribune yesterday relatives are struggling with "disbelief" as questions linger about the horrific incident that killed the wife and mother of three.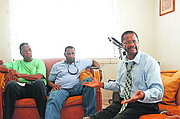 Mario Williams reflected on the relationship he had with his younger sister, recalling that as the older sibling, since they were children and even into adulthood, instinctively he always saw himself as her protector.
In the aftermath of Mrs Gibson's death, Mr Williams told this newspaper if he could have, he would have rewound the hands of time to shield his sister from harm that day.
Mrs Gibson recently retired from FirstCaribbean Bank and planned to study theology in September.
Four women - Gibson, 48, along with three others - Diane Ferguson, 55, Rodgers-Fernander, 51 and Tabitha Haye 41, were killed when a Ford F-150 truck ploughed through Labour Day march participants. The truck's driver had got out of the vehicle, which then descended a hill and hit other persons and a vehicle. Three persons were on the back and another individual inside the truck, police said Friday.
In total 31 people, including seven children, went to hospital by ambulance and a private vehicle.
Two women of the group were taken to the morgue; one of them died at Doctors Hospital and another died upon arrival at Princess Margaret Hospital.
Police yesterday said they have not concluded the investigation into the matter and appealed to anyone who might have seen what transpired during the tragic incident to give this information to assist authorities with closing the case.
Mr Williams said he heard of the incident early Friday morning while delivering souse from a cook-out the family was having for another relative stricken with breast cancer.
He had heard earlier in the day that something happened during the Labour Day Parade, but placing his sister there at the scene was far from his mind.
"Then I came home and was telling my wife that they said there was an accident on the march and some people died," Mr Williams said during an interview at his home. "Then the phone started ringing here with people saying an accident happened on the march and saying they were trying to reach Tami, my sister, and no answer.
"Right then we decided to all just go to the hospital."
After waiting to get word of his sister's condition, Mr Williams said the moment of truth came.
"If I could rewind the day I would," he said. "If I could have been there for my sister I would have. I feel like the protector. If I could have been there to warn her I would have wanted to do that."
As the family seeks closure, questions linger, Mr Williams told The Tribune.
"I was saying it must have been a standard shift truck on top of a hill and someone must have been unable to handle it," he said of his theories.
"I have also thought about it being a parade and people shouting and carrying on. If the horn blows, nobody looks up. If people cheer out loud, no one is going to do anything.
"If people are shouting 'get out of the way,' odds are people will look around first.
"And then you hear someone was driving and they got out of the truck. Then you start thinking well, why did they got out of the truck? Certainly, you have questions.
"I have thought about who might be driving the truck. The thing about that is how do you process that into the feelings? You don't know whether you hate it or you love it. Do you want something done?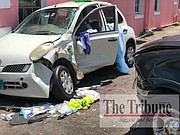 "I had a good deal of friends on that parade. My wife had a good deal of friends on the parade and the person driving the truck being closely related to those on the parade. It made me wonder well how do they feel?
"First it might be grief and it might be anger.
"Do I want something to happen to someone because of this? I really don't know. It was an accident and I don't know if everyone would view it the same way.
"Could it have been avoided? Maybe so."
For the relatives of Kathleen Rodgers-Fernander, another victim of Friday's tragedy, the death was a shock. It is hard, they said yesterday, to come to grips with the fact that she was alive and well on the morning of her death.
Her daughter, Nahshan Fernander-Brice, and sister, Katherine Rodgers, said these past days have been about focusing on Rodgers-Fernander's legacy.
Rodgers-Fernander, a 56-year-old mother of two, was remembered as a loving, energetic and passionate woman who loved family and God.
For their part, the family of Rodgers-Fernander said they'll continue to remember the great woman she was.
Mrs Fernander-Brice said: "She was very loving and strong. She was very passionate. She was outspoken and came with a lot of leadership capabilities.
"She was always the life of the party. Her personality was bubbly.
"You want to be angry. You want to be upset, but you don't know what this life brings. Because you can count it as negligence, but at the end of the day an accident is an accident. We only hope the law gives justice for it," she said.