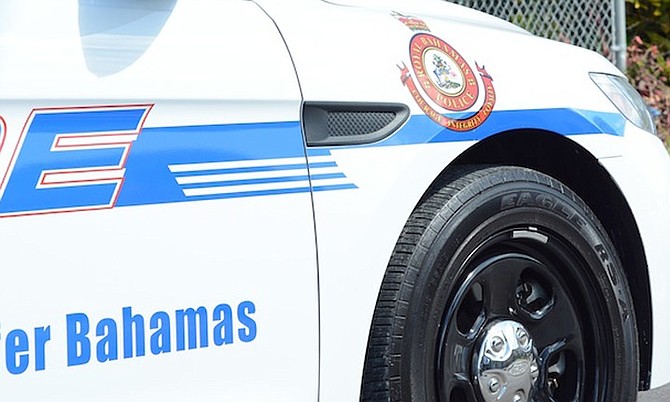 By AVA TURNQUEST
Tribune Chief Reporter
aturnquest@tribunemedia.net
A POLICE officer is recovering in hospital after being shot by men he pursued while off-duty early Thursday morning.
Police said they launched an island-wide manhunt for the suspects, who they believe are connected to a string of armed robberies in the capital in recent weeks.
The off-duty officer was at Primer Avenue off Tonique Williams Darling Highway when he was approached by two men who tried to get into his car shortly after 2am Thursday.
"The officer managed to thwart the attempt resulting in the suspects getting into a gold vehicle, which was occupied by other men and made good their escape," a police report read.
"However, the officer pursued the vehicle, which came to a stop at Robinson Road and Lincoln Boulevard. The men got out of the vehicle and fired at the officer, resulting in him sustaining gunshot injuries."
According to the report, the police officer returned fire with his service-issued weapon, but the men escaped on foot. Up to press time, the officer was said to be in stable condition receiving medical care in hospital.
Meanwhile, police are searching for the culprits of three armed robberies and an attempted armed robbery.
Two men were robbed outside a home on Roosevelt Avenue off Jerome Avenue shortly after 11pm Wednesday.
According to police, the victims were approached by two armed men who got out of a white Ford vehicle and took their cell phones before returning to the vehicle and speeding off.
The next incident was reported around 1am Thursday at a residence at Seaview Drive off West Bay Street. A man was approached by an armed man who demanded cash; however, the request was not unsuccessful and the culprit reportedly fired two shots before running away.
In another incident, a man was standing outside a home on Soldier Road sometime around 1am Thursday when he was approached by four men in a white Ford Taurus vehicle. Police said one of the men was armed with a firearm and robbed them of a cell phone and cash before they got into the victim's gold Nissan Sylphy and both vehicles sped away.
An hour later, a man was robbed as he pulled up to his home on Constitution Drive, Chippingham. In that incident, the victim was approached by a man armed with a firearm, who ran away after robbing him of a black bag that reportedly contained two cell phones.
Police reported two armed robberies that involved a white Ford Taurus earlier last week.
A white Ford Taurus was stolen from a Ridgeland Park home shortly after 10pm on Tuesday. An hour later, police reported that a white Ford Taurus was used in the commission of another armed robbery on St Alban's Drive.
Investigations are continuing in all matters.
• Police are investigating a shooting incident on Saturday, which left two men with injuries.
Shortly after noon, two men were standing outside a home on Eaton Street in Yellow Elder Gardens, when a silver Toyota Passo vehicle pulled in front of the home, police were told. Occupants of this vehicle fired shots at the men, injuring both of them before speeding off. Both men were transported to hospital and are listed in serious condition.
Police are following significant leads into this matter. Investigations are ongoing.
Police also took two illegal weapons off the streets.
Around 1pm on Friday, Mobile Division officers were on routine patrol on Plantol Street when they observed a group of men in an abandoned building acting in a suspicious manner. As the officers approached, the men ran from the building. Officers conducted a search of the building and recovered a .22 pistol and one round of ammunition.
In the second incident, shortly after 11pm Friday, Drug Enforcement Unit officers acting on information, went to Marlin Close off Cowpen Road, where they conducted a search of a vacant lot and recovered from under an old sofa, a Smith and Wesson .44 pistol and six rounds of ammunition.
No arrests were made in either of these incidents.
• Last night, a man was injured in a shooting incident.
Short after 6pm, the victim was on Bernard Road when occupants of a silver Nissan March pulled up and opened fire, hitting him to the body.
He was taken to hospital, where he was in stable condition.