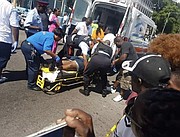 By AVA TURNQUEST
Tribune Chief Reporter
aturnquest@tribunemedia.net
THE Princess Margaret Hospital's Blood Bank received some 40 pints of blood in a 24-hour period as donors responded to an urgent appeal for blood following the Labour Day tragedy.
Chief phlebotomist Dr Glennville Roberts told The Tribune the bank received close to 20 pints on Friday and had collected around 20 pints by noon on Saturday.
When The Tribune visited the bank on Saturday, there were about ten people waiting to be processed and another four undergoing transfusion. Staff confirmed there was a steady flow of volunteers coming to the bank, with standing room only for most of the day.
"We are having an excellent day so far," said Dr Roberts. "We have a steady flow of donors coming in and the blood bank staff is here available to go."
Anyone interested in becoming donors should ensure they have eaten a full meal half an hour to 40 minutes before they give blood. Those suffering from the flu will not be allowed to donate blood for at least two weeks after recovering from the illness, said Dr Roberts, adding people are also barred from donating blood for a year after a major surgery.
"We will give a questionnaire to fill out," Dr Roberts continued, "and we want them to be truthful in answering the questions. We do all screening in the back, blood pressure, iron level, and pulse. If they fit the criteria, we can put them on the bed. It's an easy insertion of the needle, it's not that difficult. You're giving blood to save a life and you will be helping people whose family cannot even help themselves."
Dr Roberts said just one pint of blood - the maximum amount one person can donate - had the potential to save three lives.
"So we're here just waiting so that the people can come," he said. "So far we have about 20-something pints, so we're here with staff on willing to take the blood. All blood types are important, it doesn't matter what type. (Friday) we had close to 20 pints donated, we were here until 9.30pm. The response was very well, (Saturday) has been excellent."
Labour Day celebrations were plunged into tragedy when a truck mowed through a crowd of people Friday morning, killing four women and injuring 24.
Dr Roberts said: "When you come the blood can go to whomever is in need of it with that blood type. I believe we have the influx based on what happened (Friday). A lot have given and said they came based on the incident.
"On Saturdays, we usually have a good flow of persons coming to donate for a relative or someone they know that's receiving surgery."
One of those regular donors on Saturday was Ada Bethel, who told The Tribune she routinely visits the blank to offer blood after her sister died at PMH because of an alleged shortage.
"And that made me realise we have a crisis in this country," Ms Bethel said. "A crisis in our medical system in which we have to learn the gunshot victim cannot mean more in this country than an average person sick and dying needing blood - that's why I'm here."
The Tribune asked Dr Roberts whether violent crime trends had an impact on the demand for blood from the bank; however, he noted the high turnover was not linked primarily to shooting deaths, but general illness.
"Some days it's busy, some days in between," he said. "Blood is always constantly moving in and out. It lasts in the refrigerator around 35 days on average. Blood is always constantly in and out that's why it's important (to donate). We encourage the people to be a volunteer, every two months they can come and give blood.
"You can't say the need is in relation to the crime, sometimes it's people in hospital that have surgery and need blood, could be anaemic, cancer patient, kidney patient, but we are in the business of saving lives so whether it's a shooting incident or ordinary situation we still need the blood."
The blood bank closed at 4.30pm on Saturday.