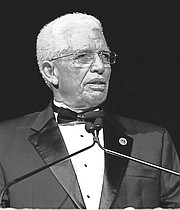 By MORGAN ADDERLEY
Tribune Staff Reporter
madderley@tribunemedia.net
IN the last five years, John Barrie Farrington, CBE, 82, has battled three different types of cancer. Today, all three are in remission.
In an interview with Tribune Health, Mr Farrington discussed his "inordinate piece of good luck" and his experiences with hairy cell leukaemia, prostate cancer and breast cancer.
A husband, father of four, grandfather and great-grandfather, Mr Farrington was in the hotel business for nearly 60 years, from 1954 until 2013. He retired as senior vice president and director of Kerzner International in 2013,
Mr Farrington has also served on government boards and committees, including as chairman of the Bahamas Electrical Corporation and chairman of Bahamasair.
One day in late 2012, Mr Farrington discovered a "substantial swelling" in his upper abdomen while exercising.
A scan of his abdomen by Dr Elizabeth Darville revealed that his spleen was abnormally enlarged. The results of a blood test also showed that he had a very high white cell count.
Mr Farrington was referred to the Sylvester Cancer Centre, which is part of the University of Miami health system. He was placed under the care of Dr Denise Pereira, and was eventually informed that he had hairy cell leukaemia, a rare, slow-growing cancer of the blood.
Mr Farrington explained that in a way this diagnosis was "a little bit fortunate", as this type of disease is "at the low end of the cancers and treatable."
However, along with the enlarged spleen, Dr Pereira told Mr Farrington that his kidney function values were rising as well. This was an indication of tissue starting to expand which put pressure on his kidneys.
If allowed to progress, this could lead to kidney failure. Mr Farrington thus began treatment immediately.
"The prescribed treatment was for me to be infused with a drug called Retuxin," said Mr Farrington. In the first instance it was necessary for me to be infused once per week for about four weeks and thereafter on a three (monthly) basis. Each treatment required four to five hours."
Fortunately, the treatment worked, lowering his white blood cell count.
However, before he could finish the series, his company-paid insurance expired. And as paying out-of-pocket would have proved extremely expensive, Mr Farrington switched treatment centres.
His daughter, Robyn, a nurse, was working at the Broward General Hospital at the time. The facility had only recently created an Outpatient Infusion Centre, dedicated to administering chemotherapeutic agents in an outpatient sitting.
"To me this meant that the treating of my hairy cell leukaemia could continue at more reasonable costs," said Mr Farrington. While at Broward, he was placed under the care of Dr Archana Maini.
By 2014, this cancer was in remission. However, "quite unbelievably", it was discovered that Mr Farrington had another health issue, this time related to his prostate. Upon examination, it was revealed he had prostate cancer.
Because Mr Farrington was in very good condition, Dr Louis Yogel, Chief of Urology at Broward General, recommended radiation treatment in order to shrink the cancer.
"Because the treatment covered a 13-week period at five days per week we decided to rent a small house in Fort Lauderdale for the duration," said Mr Farrington.
Unfortunately, another health issue was soon discovered.
"One day while showering, and in the midst of my course of radiation treatment for the prostate cancer, I felt a lump in my right breast and which was fairly tender," Mr Farrington recalled.
He was eventually diagnosed with breast cancer.
"(Dr Maini is) an oncologist who's been certified for a long time. She said… she'd read about it, but it was the first time that she'd ever encountered a male patient who had breast cancer and prostate cancer at the same time."
"I didn't need to be extraordinary in that regard," Mr Farrington added. "It was just a fateful event."
For treatment, his right breast tissue was removed.
"The surgery was comprehensive and included injections of a nuclear medication into the area adjoining the cancerous section," explained Mr Farrington.
While recovering from that surgery, he was still undergoing prostate radiation treatments.
Today, all of Mr Farrington's cancers are in remission.
He has tests done every four to six months to ensure that there have been no changes in his condition.
"To hold the breast cancer at bay I am obliged to take daily a drug called Tamoxifen and for five years and a blood pressure medication called Riac," he said. Locally, he is under the care of Dr John Lunn.
Despite his trials, Mr Farrington and his family maintain a positive outlook.
His wife Susan told Tribune Health: "It's a traumatic experience. You don't know where it's going when things start. It's that dreaded big 'C' word."
She expressed gratitude to everyone who helped them along the way and all the healthcare professionals who assisted her husband.
"I think that as best you can you have to stay positive. I think that has a lot to do with how you deal with all the treatments and the outcome, too. I think psychologically and spiritually that's important for your health," Mrs Farrington added.
Mr Farrington remains active and maintains the view that while the prospect of fighting is daunting, with early detection "it is possible to obtain medical treatment which can keep the disease at bay."
"(It's an) inordinate piece of good luck or good fortune… that all (my) three cancers are indefinitely in remission. And I can still do all the things I want to do and live a normal life," he said.
"There's always that nagging doubt as to whether or not…something would re-emerge. But I don't dwell on that. We (have a) positive attitude to live life to the fullest."