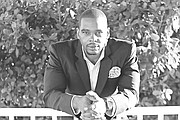 Health coach Ethan Quant, of Elite Wellness Solutions, has succeeded in his weight loss journey and now wants to share his methods with the Bahamas in an effort to foster a culture of wellness and conquer the obesity epidemic.
Before the personal trainer, the customised meal plan and the group training classes, your health and wellness journey starts with changing your mindset and behaviour.
In order to truly change your body, you have to change your lifestyle. And in order to change your lifestyle you have to change your behaviour. This is a foundational precept on the path to wellness - one that, with the appropriate guidance, will allow you to achieve optimal results.
Heath coaches serve as a health promoter, health educator and an active partner in unlocking your potential to maximise your own healthy lifestyle choices. A health coach does this by helping you make those small, but incredibly challenging, lifestyle behavioral changes that are needed for long term success.
A health coach doesn't tell you what to do, but rather helps in navigating what works better for you based on where you are now and where you want to be in the future. Remember, you are the expert in your life, and your health coach is the expert in lifestyle modification. We are there for support, motivation and guidance, using empathy and understanding to develop your self-efficacy so that you can build your will to improve your health and life.
A health coach works along with other health and fitness professionals to help you accomplish your goals. These professionals include personal trainers, nutritionists or dietitians, psychologists or psychiatrists, physiotherapists and primary care physicians. These allied health professionals bring their respective areas of expertise to the table to provide you with a specialized team built to cultivate long term success. The key to this, of course, is you.
While this may be a relatively new approach to achieving health and wellness in the Bahamas, it is currently the most effective way to truly combat obesity and ensure healthy and sustainable weight loss. We need to recognise that simply telling individuals what to do and how to eat is not enough. A health coach serves as your partner to help you navigate where you are now to where you want to be.
As a health coach I see people from all walks of life with many different goals. Whether they want to lose weight, build lean muscle mass, train for a triathlon, or simply to look and feel better, all of them recognise the importance of being guided through this process. Perhaps most importantly, they've realised that they cannot reach their goals on their own and that it's OK to ask for help from a professional.
Think about it. In other aspects of our lives we seek professional help from others. If a vehicle has issues we will take it to the mechanic. If we need legal advice, we'll seek counsel from a lawyer. If we have a leaky faucet, we'll contact a plumber. Without a doubt, we are fully aware of our limitations. Thus, we need to rely on the experts. Obviously, we are used to seeking help for the things that we really want to get done. Certainly, our health and wellness goals should be treated with the same level of care.
Trust me, I know what it's like to transform my body and my life, and my sincere hope is that you are able to experience that as well. You are in control. I am just here to help.