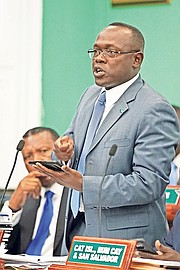 By RASHAD ROLLE
Tribune Staff Reporter
rrolle@tribunemedia.net
EXUMA & Ragged Island MP Chester Cooper (PLP) ridiculed the Free National Movement and its intended value added tax hike yesterday, portraying a party that voted against VAT's introduction as hypocritical.
He said some of the government's justifications for the VAT increase are inadequate.
For instance, Prime Minister Dr Hubert Minnis' claim the VAT hike is necessary to prevent currency devaluation is one parliamentarians should not repeat to their constituents, he said.
"Surely members of this House, the prime minister among them, understand how our currency and foreign exchange regime work," he said, "and that raising taxes has nothing to do with dollar devaluation. Indeed, the minister (of finance) acknowledged on page 67 of his communication that foreign reserves are almost double the international benchmark."
As for comparisons of the Bahamas to Barbados, a nation that is struggling financially, he said: "The only thing similar to us and Barbados in that context is the size of our population."
Mr Cooper said he opposes the VAT hike out of concern the business community and public cannot adjust to accommodate it so soon and because there has been no peer reviewed research supporting the government's revenue projections.
He noted Dr Minnis once described VAT as "evil" and lamented that the Progressive Liberal Party imposed the tax on "our poor, our pensioners, our disposed and our middle class to suffer such a huge financial burden."
"The hypocrisy is boundless," Mr Cooper said. "Laziness abounds. This administration has a credibility deficit. And it is little wonder that people no longer trust this administration. The credibility deficit is far larger than the budget deficit itself.
"The FNM was against Bahamas Resolve Limited, now it supports Resolve, put more money into it than the previous administration. The FNM was against the so-called 'Spy Bill', now they love it. The FNM was against not consulting the Bahamian people on major developments, but I guess that was before they became the government and Oban came calling. And so is the case with VAT. What they once saw as a scourge, they now tout as a useful tool, yet they still don't know how to properly use it."
Mr Cooper said the PLP will vote against the tax increases.