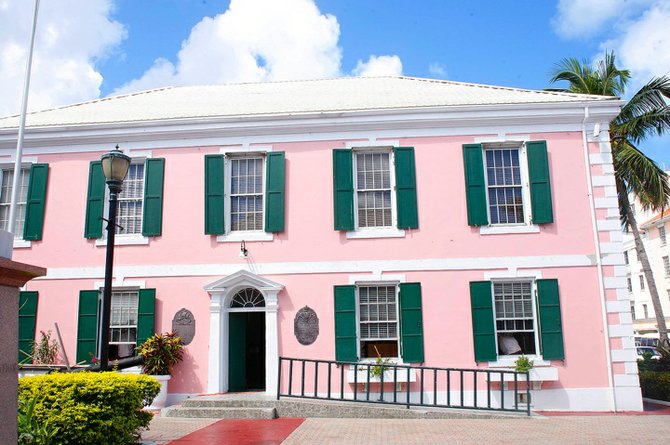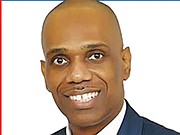 By DENISE MAYCOCK
Tribune Freeport Reporter
dmaycock@tribunemedia.net
PINERIDGE MP Frederick McAlpine said Grand Bahama "is dying a slow death," urging his governing party to try a "little harder and faster" to bring some economic relief to the island.
"Without an economic life raft, Grand Bahama is dying a slow death. We need a mission and a miracle urgently!" he said during his contribution to the Budget Presentation in the House of Assembly.
"We've heard it said Mr. Speaker, by none other than our leader; if we fix Grand Bahama, we fix the economy of the Bahamas."
The Grand Lucayan Resort was a lifeline for Grand Bahama, but the property closed following Hurricane Matthew in October 2016. Deputy Prime Minister Peter Turnquest said that negotiations for the sale of the property had been a complicated process with the four parties at the table.
Although McAlpine is chairman of the Hotel Corporation Board – now the Tourism Development Corporation – he is not involved in the negotiation process.
Rev McAlpine noted that the island of Grand Bahama – with the second largest population – has high unemployment, a lacklustre economy with little to no national, local or international investment.

"Yes, we know the powers that be are trying but Pineridge, by extension Grand Bahama, has asked me to ask you, please try a little harder and a little faster," he said.
He added that Grand Bahamians are hoping things will get better. "Why do you think so many of us are still there? There are so many from (Grand Bahama) anticipating returning home to the island they love.
"We need the Grand Bahama Port Authority, The Government of the Bahamas, private partners and stakeholders to come together and make something happen for Grand Bahama, less talk, and more action!"
Rev McAlpine noted that while efforts are being made by the Office of the Prime Minister in Grand Bahama to make something happen as it relates to making the island a technology hub, and to draw investors there, the impact would not be felt immediately.

"While Grand Bahama is thankful we also recognise that we won't feel the residual economic effect until three to four years from now from these present investments. We encourage the Grand Bahama OPM to keep moving and ploughing on behalf of the people," he urged.
The MP for Pineridge said Grand Bahamians must stop fantasising about the past and recognise that the days of the Princess, Shalimar, Laker Airline, and the International Bazaar are gone.
"We must forget those things that are behind and press towards new economic ideas, innovations, and self-preservation. We must now make Grand Bahama what we want it to be, and not what it used to be.
"We must do so by making it easy to do business in Grand Bahama, encouraging entrepreneurship, supporting small businesses and stimulating economic growth. This is the path that Grand Bahama must take in order to re-invent, re-invigorate, rejuvenate and revive its economic status in these Family of Islands," he said.
On the issue of healthcare in Grand Bahama, The Grand Bahama MP said that many persons were disappointed that healthier items were not included on the breadbasket list as announced by the Minister of Health.
Rev McAlpine also mentioned the Rand Memorial Hospital – saying the healthcare facility is old and unable to adequately meet the demand of healthcare of persons living on or visiting the island.
He noted that the roof leaks and the building is in desperate need of refurbishing and renovating.
"The most modern aspect of the hospital is the operating theatre that was done when we were last in office. Everything else, as the young people would say, is popped down. For the second largest population in this country, we need to do more and better as it relates to this healthcare facility," The MP stressed.
However, he commended the government for the decision concerning the relocation of the hospital's cafeteria and kitchen away from the patients after a kitchen fire forced the evacuation of patients from the hospital.
Rev McAlpine also reported that are still complaints about long waiting times, and the differential treatment of Bahamian and foreign patients and staff at the Rand.
He said: "Too many persons are still waiting too long when showing up for medical care at the Emergency Room; which means that we could be understaffed, overworked or simply overwhelmed by the number of patients seeking medical attention."
The MP said that too many of the Bahamians nurses are still complaining about not being treated fairly in relation to their foreign counterparts.
Rev McAlpine said that he also wished for the Minister of Finance to know about the shortage of hospital beds, patients having to lie down on gurneys and patients being prepped for surgery from the asthma bay.
"Enough is enough," he stressed. "I'm going to suggest today what can be done to add to the coffers to increase revenue. We should stop demanding of our citizens what we are not prepared to demand of those foreigners.
"I recommend to this House for non-Bahamians using our hospitals and schools; that whatever the Bahamian pay-registrations may be, it should be made double for non-Bahamians," Rev McAlpine suggested.
"If it's not going to be a free lunch for Bahamians it shouldn't be a free lunch for anybody else," he said.
Rev McAlpine also expressed his concern about the CAT scan at the Rand Memorial Hospital which had been out of commission for some time but is now back in service after repairs.
He noted that on the weekends some patients had problems getting a scan done.
"The Rand is not a clinic; it is a hospital and should function as such. So provisions should be made for CAT scans 24/7. I've also been informed that we should be receiving another CAT scan. This should improve the service in that regard as well," he said.
He also stressed that Grand Bahama needs its own oncology or cancer centre because it is too expensive and tedious for these persons to travel to Nassau for treatment.
Rev McAlpine said that the Minister of Health had informed him that they're working feverishly to have this oncology centre up and running in the shortest possible time.
Another issue bothering Rev McAlpine was that while Cabinet members and parliamentary secretaries all have individual insurance – as do MPs – they also have insurance for their spouses and children even though they earn more than other elected officials.
"When the people of Pineridge elected me, they elected me, not my wife or my children," he said. "So whatever I have to do for my wife and my child should be done from my earnings.
"As an MP only, I have to pay for my wife and child to have insurance, and rightfully so, they're my responsibility. I earn less, but I have to pay out more (sounds like the Bahamian people, huh?). Nevertheless, Cabinet Ministers and Parliamentary Secretaries' insurances for their spouses and children are paid by the government of The Bahamas. So they earn more but pay less. So can you imagine somebody holding these positions? Spouses and children, and some people have more than two dependent children," he explained.
He then criticised the government for not providing insurance to EMS personnel who are the first on a scene to emergency calls.
"The real unconscionable thing for me: ambulance drivers in this country have no insurance on their lives. How is it that the treasury of The Bahamas can provide Cabinet Ministers and Parliamentary Secretaries' spouses and dependent children with insurance and cannot do so for the ambulance drivers in this country? That's a crying shame!" Rev McAlpine said.
"With respect to this House of Assembly, other than the prime minister, if you can't pay for all, you shouldn't pay for any. I'm asking this question on behalf of the people, why successive governments keep paying for people who can pay for themselves but are asking more of people who cannot afford more or even to pay?"