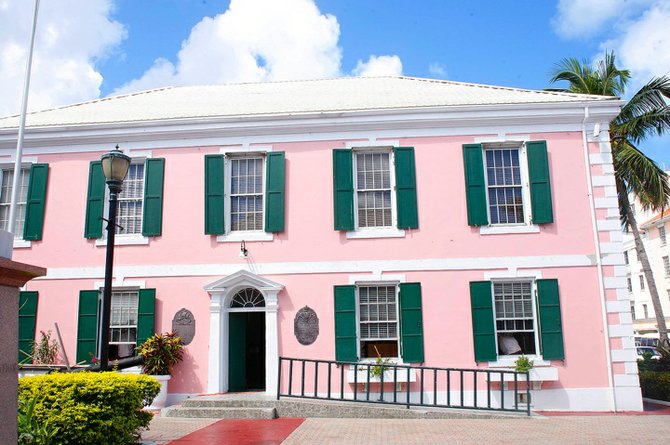 By RASHAD ROLLE
Tribune Staff Reporter
rrolle@tribunemedia.net
MOST Bahamians oppose the Minnis administration's "People's Budget", with more than 70 percent against the impending value added tax increase, a new scientific poll from marketing and research firm Public Domain reveals.
Seventy-six percent of Bahamians oppose the budget, with such large opposition consistent across demographic groups, regardless of age or income.
M'wale Rahming, president of Public Domain, said the results are the latest indication the Minnis administration is heading toward the "point of no return," that moment when Bahamians' disapproval of an administration may not be capable of reversal.
"What happens," he said yesterday, "is people start to point back to other missteps that you've made so new mistakes are no longer in a void. So, it's 'look how they did this and they ain' talk to us' and 'they did that last thing and they ain' talk to us,' so people are no longer hearing what the government is saying, they're now referring to your past missteps and I think the danger is it's difficult to govern when you don't have buy-in from the general public and I think we saw that in the last administration and the one before that. At the end of those terms, the general public (was) no longer tuned into those administrations."
Mr Rahming said the administration is reaching the danger zone quicker than he expected "and the pace is gaining."
"They started out with a high favourability that was mid-70s and then that sort of dropped to the mid-60s and now you see it's going down and down and I think once you get into that mid-30s, it's hard to pull out of that," he said.
The latest poll does not ask people if they generally approve of the administration, but a poll in April by Public Domain showed fewer than 50 percent of Bahamians were generally satisfied with its performance at the time.
According to the latest poll, 62 percent of Bahamians believe the budget "is designed to benefit special interests within the FNM"; 16 percent believe the budget is just "like any other budget"; seven percent believe it is "the people's budget" and 15 percent said they don't know.
The poll results also show 73 percent of people generally oppose the VAT increase to 12 percent from 7.5 percent, 22 percent generally support it and five percent said they don't know.
"We're not saying the Bahamian people have studied this budget and have grasped complex relationships between deficits and the like," Mr Rahming said. "This is public opinion about the arguments being made about this budget, that's it."
Mr Rahming said communication remains a problem for the government, pointing to the poll's data showing 86 percent of Bahamians believe the government should have engaged in public consultation before unveiling its plan for the new fiscal year.
"I'm going to be repeating something I've been saying for months and months and people are going to say I have an agenda," Mr Rahming said, "but the issue is communication. I don't think the communication on this was handled very well therefore the arguments that are made on the back-end gets disbelieved because government did not communicate properly what they were trying to do. One thing governments and corporations need to understand is communication isn't just what you say but also what you don't say. They need to show people that they are having consultations and that they want to become partners with the public as opposed to just leaders."
Deputy Prime Minister and Minister of Finance Peter Turnquest has defended the lack of consultation surrounding VAT's increase, saying governments keep revenue measures close to the chest to discourage consumer behaviour that could upend government revenue projections.
The scientific poll, which was conducted between June 2 and June 6, has a margin of error of 3.46 percent. Eight hundred respondents were selected by "random" telephone selection.
Most Bahamians, according to the poll, believe it is unfair for the government to tax gaming houses much more than other industries. However, Mr Rahming was careful to note the question respondents were asked on this matter likely influenced their response.
Respondents were asked: "Do you think it's fair or unfair that locally owned Bahamian businesses, like gaming houses, under the new budget, will be taxed at upwards of 50 percent while banks and other industries are taxed less than 10 percent?"
Seventy-four percent of people said this is unfair in response to the question.
Mr Rahming said: "I can't say we got a nuanced interpretation of what people think (on this issue). When we say you're taxing anything more than you're taxing something else, people are going to say it's unfair. I don't think it's specific to the gaming industry or reveals a lot. "We went back over this internally for about an hour because we were worried but we came back to the fact we're not trying to understand a nuanced feeling to a complex issue like the budget; we're really measuring people's reaction to the different arguments that are being made to the budget and the word fair was being used by people on one side and the word unfair was being used on the other side."

Mr Rahming said after Public Domain had begun polling Bahamians, a private client requested and paid for a private poll about the budget.
"All clients of mine are confidential," he said when asked to reveal the client. The questions and answers polled for that client were not included in the report released to the press yesterday.