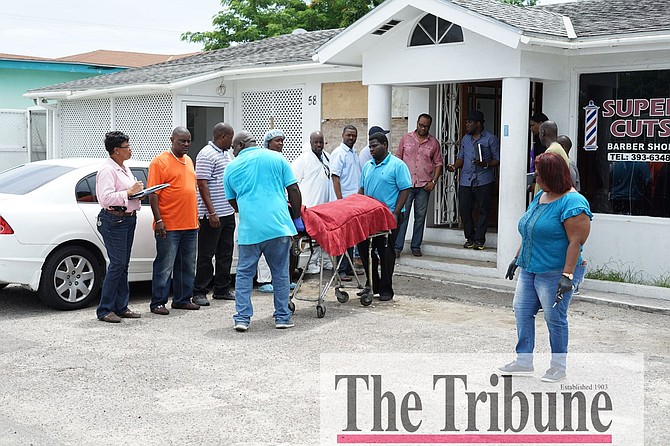 By RASHAD ROLLE
Tribune Staff Reporter
rrolle@tribunemedia.net
THE family of two teen brothers fatally shot in a barbershop on Saturday are on edge, fearing criminals are not done with targeting their family.
One of the brothers died on the scene and the other died a short time later in hospital. They were two of three people killed in a 12-hour period. Police said a father was shot dead during a robbery on Saturday night shortly after he pulled up to his home at Refuge Court. His children were in the car at the time.
Malik Cartwright, 17, and Delano Cartwright, 18, were killed a little more than a year after their father Delanzo "Lance" Cartwright Sr was murdered in Pinewood. Cartwright Sr was on bail for murder at the time of his death.
The teens were shot around 10am on Jerome Avenue off Pyfrom Road when two men wearing hoodies opened fire in Roy's Super Cuts Barbershop.
People close to the family claimed that police were aware that the young men had received death threats. Less than two hours before his death, Delano wrote on his Facebook page: "I ain't ga lie I really miss my dad."
According to Assistant Commissioner of Police Clayton Fernander, on Tuesday of last week, Camron, a second-grade student at Columbus Primary, had just left home to get into a vehicle waiting nearby to take him to school.
ACP Fernander said a short distance away, two men were allegedly involved in a drug dispute in which a firearm was produced by one of them and shots were fired.
Camron's body was hit by a stray bullet. He was taken to the Princess Margaret Hospital where he later died. A man, believed to be the intended target, was also shot during the incident.
Camron's mother, Shavonne Feaste, did not want to be interviewed by The Tribune last night, but appeared to be holding up well, sharing hugs with family and friends as they gave her their well-wishes.
However, the boy's grandmother, Proxanna Feaste, much like her relatives did shortly after the incident last week, lamented the situation that had led to her grandson's death, and the wider crime issue in the country.
"They need to do something," she said. "Because too much lives getting taken away like that, and nothing happening. So they got to do something."
Ms Feaste said she appreciated the community's support during this time.
"I'm happy and I appreciate how they support my grandson," she said. "I wasn't here when that happened. I was in Orlando. But when I heard it, I just couldn't take it. I just asked God for strength. And I felt when God strengthened me. So I'm happy how the people supporting me."
Meanwhile, Vicente Roberts, a counsellor at the University of the Bahamas, called on men in local communities to step up to the plate and be the kind of father-figures the country's youth need.
"Enough is enough," he said. "There is no room at the table for boys. And if you wish to be a man, then let's be men. Our children are being gunned down in our communities, which we are the men of.
"…So let's not be boys, and be men. The women are tired. They are giving birth to our children. Let's at least acknowledge the sanctity of life they are giving birth to. They are giving birth to the future of this nation, while we are around, outside clowning around, joking around, and our children are being gunned down. Enough is enough."
Last year, eight-year-old Eugene Woodside Jr was fatally shot once in the chest while practising his spelling words with his sister after a stray bullet ripped through his wooden home in the Chippingham area.
The brazen daytime attack in the densely populated area came after the shooter chased his intended target, running between houses in the Rosebud Street area as he fired several shots, one of which penetrated a wooden structure and its sheetrock, striking the child.
The third-grade, Albury Sayles student was rushed to hospital in a private vehicle, but died a short time after his arrival. The intended target, Dennis Moss, also died in hospital after the shooting.
A man was charged with Eugene's and Moss' murders in October. He has since been granted $50,000 bail by a Supreme Court judge ahead of his trial over the crimes set for 2020.