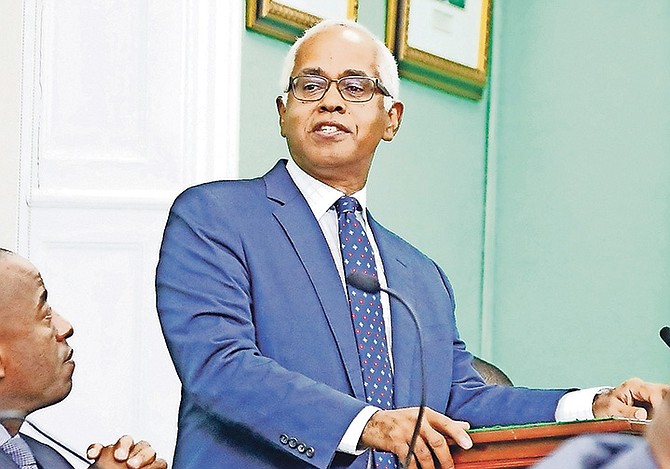 By KHRISNA RUSSELL
Deputy Chief Reporter
krussell@tribunemedia.net
IN the face of backlash over the government's proposed tax increase on web shop operators, Tourism Minister Dionisio D'Aguilar said the new taxation sliding scale for number houses is "set in stone".
He also doubts jobs would be affected and web shop operations would have to close numerous locations because of the increased fees.
As he maintained the government's decision to increase taxes on web shops is not discriminatory, the minister with responsibility for gaming said "all sins" are taxed heavily.
He added that the discussion on this matter needed to be shifted to the revenue and profitability of the industry.
Meanwhile, State Legal Affairs Minister Elsworth Johnson said web shops should be taxed in a way that brings equity to the social downfalls of the industry. He said currently the industry was not being taxed according to the international industry standard.
Gaming house operators have threatened to sue the government if it fails to engage them on what it called an "unconstitutional" and "discriminatory" sliding tax scale for web shops.
Leaders of the industry are adamant there would be job cuts and the closure of hundreds of web shops nationwide should the government decide to move forward with implementing the increase.
"As far as I am concerned it's set in stone now," Mr D'Aguilar said when he was asked by The Tribune if the sliding scale could be amended in the face of criticism.
He also said: "I just find it difficult for people to conclude whether it's high or not without actually seeing the facts. You will see that there is no discussion on what the revenue figures are, no discussion on what the profitability figures are, so how can you conclude whether it's high or not? So let's have an intelligent conversation about it.
"I just think that everybody is using the hype for their own political gains to push a certain agenda. Let's look at the numbers. Let's analyse the numbers then come to a conclusion so that's what I intend to do."
"I don't think it's discriminatory at all," the minister further commented. "I think you either agree that it's a sin or it's not a sin and if you agree that it's a sin then all sins are taxed heavily. So, the crux of the discussion is where is the threshold, where is it high and where is it low.
"That's the $45m question and that's what we have to decide and when I speak to Parliament I'll speak to that matter."
Web shop operators have also raised concerns that 2,000 jobs will be lost and 75 per cent of the locations will close. They have said this hike is an intentional move to shut them down.
To this he said: "Absolutely not. I just think that all of the operators have to step back, analyse their statements and see how it can adjust.
"Yes you may have to adjust your business, but will it lead to widespread closures and shut downs? Absolutely not," the tourism minister said.
"I don't think so at all. But everybody has their view and everybody is pushing their agenda so all I would advise is you can't conclude on this matter until you know the facts and until you know the numbers and there is what I find interesting is there is no discussion of the numbers, no one talks about the numbers."
For his part, Mr Johnson said Bahamians should not replace enterprise and industry with a game of chance. He said in his opinion there is a 99 percent chance the gaming house will win while the patron loses.
"I think that is in all things we have to tax the industry in a way that would bring equity to some of the social downfalls of that industry and how do we pay for it," he said during his budget contribution.
He also said: "I note the circumstances by which gaming was legalised. The question remains whether the industry, which is a lucrative one, was properly taxed at its inception.
"If one were to conduct a comparative industry analysis it would be clear that the current taxation regime does not meet the current international industry standard."
Under the new proposed sliding scale, those web shops earning up to $20m in revenue will be taxed at a rate of 20 percent and those falling between $20m and $40 will be taxed at a rate of 25 percent.
Others earning between $40m and $60m will be taxed at a rate of 30 percent while those in the range of $60m and $80m at a rate of 35 percent.
Those between $80m and $100m at a rate of 40 percent and over $100m at 50 percent.