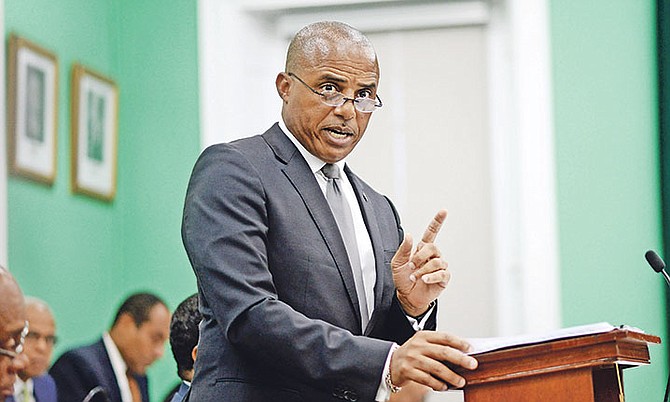 By KHRISNA RUSSELL
Deputy Chief Reporter
krussell@tribunemedia.net
DESPITE a bloody weekend with three homicides recorded, National Security Minister Marvin Dames insisted murders continue to trend downward, adding Bahamians have absolutely no reason to feel unsafe in the country.
In the days following the murders of a father and two teenaged brothers, Mr Dames warned criminals their days of wreaking havoc are numbered.
He further rejected the idea that a nation's crime rate is a direct reflection of the government's effort to fight criminal acts.
The minister said while the government has found some successes in the fight against crime - a 37.4 percent drop in murders along with overall crime trending downward by double digits – officials do not see this as a time to pat themselves on the back. He conceded the most recent incidents and others prove there is still work to be done.
Malik Cartwright, 17, and Delano Cartwright, 18, both died on Saturday morning after two armed men wearing hoodies opened fire in Roy's Super Cuts Barbershop. One of the brothers died on the scene and the other died a short time later in hospital. They were two of three people killed in a 12-hour period.
A father, Wilton Brown, was also shot dead during a robbery on Saturday night shortly after he pulled up to his home at Refuge Court. His children were in the car at the time.
"I don't want to speak directly to any of the incidents per se but the police have been investigating both matters," Mr Dames said in an interview with reporters yesterday. "They're pleased with the direction they are headed. They are getting information and this is the struggle we face in this country.
"You know you have matters such as the matter on the weekend and sometimes there are no signs pointing to these dangers. Because many of these young persons who are engaged in gang related activities tend to keep it within the group and feel as if they will resolve it the way they know how to. But our concern is for every single Bahamian.
"We are fully confident and capable of addressing these issues and that we will. We're hoping that as we move throughout the rest of the year, these matters will become a thing of the past.
"We are confident that we will do whatever it takes within the framework of the law to ensure that Bahamians are safe and that's our primary objective.
"We will not allow a small group of individuals who feel as if they can do whatever they choose whenever they want to reap havoc in this country and the police have zeroed in on these activities and they have informed me that they will do whatever it takes again within the frame work of the law to bring a level of order to this most recent incident."
The weekend murders came four days after seven-year-old Camron Cooper was shot dead. Cooper, a second-grade student at Columbus Primary, had just left home to get into a vehicle waiting nearby to take him to school. A short distance away, two men were allegedly involved in a drug dispute in which a firearm was produced by one of them and shots were fired.
Camron's body was hit by a stray bullet. He was taken to hospital, but died of gunshot related injuries.
Asked whether Bahamians have reason to feel unsafe, Mr Dames said: "Absolutely not.
"And it's a warning to those young men in particular who are out there who feel as if they can do whatever they want whenever they want to. That is quickly coming to end and we will pursue them to ensure that they understand that as long as they live within this country they are going to abide by the laws of this country. But we cannot have young men roaming the streets whatever time of the day or night feeling that they can do whatever they choose to whomever they choose.
"The police clearly understand that and we will continue to send that message out to every pocket of this country until every person engaging in criminal activity gets the message."
Mr Dames said the Bahamas is faced with crime challenges because of decades of neglect in which Bahamians have abdicated their responsibility as adults and as parents. He said children were allowed to roam aimlessly without structure or direction causing social decay.
The government, he said, is now faced with trying to build communities where young people can find wholesome and meaningful ways to live a law abiding and peaceful existence.
"We're building it through programmes - through our revamped Urban Renewal; through our Citizen Security Programme; through our National Neighbourhood Watch Council. We're building it through job programmes in the Ministry of Education and the Ministry of Youth (Sports and Culture). We're building it through multi-ministerial programmes that involves all of the Ministry of Works and Education, National Security, the Attorney General's Office.
"These are the medium and long-term measures that we're beginning to roll out and especially during the upcoming fiscal period. But as we do that we recognise that many will gravitate towards it," Mr Dames said.