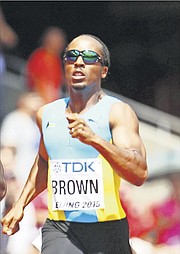 By BRENT STUBBS
Senior Sports Reporter
bstubbs@tribunemedia.net
ALTHOUGH he's still disappointed his Chris Brown Invitational has been called off again, veteran quarter-miler Chris 'Fireman' Brown said he's pressing on with his athletic career and he's looking towards his completion in 2020.
While he has not competed for the year, 39-year-old Brown said he's still contemplating whether or not he will come home to compete in the Bahamas Association of Athletic Associations' National Track and Field Championships next weekend at the Thomas A Robinson National Track and Field Stadium. In the meantime, Brown said it was good to watch as his friend and rival Kirani James of Grenada made his return at the JN Racers Grand Prix in Kingston, Jamaica, on Saturday.
"This year I decided just to rest my body a little bit because it's not a major championship year," Brown said. "Since I've been going for the last 18-19 years, I decided to give my body a rest so I would be fresh and ready for the World Relays and the World Championships next year.
"I want to be able to preserve my body for 2020 when I hope to call it quits. So I didn't want to try to push myself this year so that I can try to preserve my body a little longer to compete at the end of my career. I want to come out and put in two more strong years before I give it up."
The former national record holder, who has been the face of the men's quarter-mile for the Bahamas for the past two decades, said he would like to be on the Bahamian team going to the IAAF World Championships in Doha, Qatar, next year and the Olympic Games in Tokyo, Japan. in 2020.
With Republic of South Africa's world record holder Wayde van Niekerk out with an injury after he won the Olympic and World title back-to-back over the last two years, previous World, Olympic and Commonwealth Games champion Kirani James made his return in winning in Jamaica in 44.35.
"Kirani is a good friend of mine and so it puts himself back into the mix, so it's a good feeling to know that there is a lot of stake when I do come back and compete," Brown stated. "It's good to see him back out there and on top of his game again. He came back when there are so many other quarter-milers like Steven Gardiner, who is performing very well, so I know I have my work cut out for me."
With the BAAA Nationals set for next weekend, Brown said he would like to compete and if he does, he will probably sign up for the men's 200m, rather than the 400m.
"I'm in great shape because I've been working out," he said. "I'm just not sure if I'm ready to compete in the 400m yet because with this not being a major year for competition, I probably just want to take it easy."
On the cancellation of the third version of the Chris Brown Invitational again, Brown said with this being an off year without any major international competition, this would have been the perfect time to stage the invitational that was first held in 2013 and again in 2016.
"I just believe that this would have been the perfect time to get the international athletes to come here and to showcase their talent in another meet held in the Caribbean to go along with the others in Grenada, Jamaica and Bermuda," Brown said.
"At the same time, we could have showcased our up and coming talent against the world-class athletes, who are all looking for some meets to compete in because they don't have the World Championships or the Olympics."
Brown, who was instrumental in helping Grenada to put together their inaugural Grenada Invitational in 2017, said he has been given the same assurance from the Bahamas Government as he has received in the past that "they will help him put it on next year."
"Every time I get an email, it says the same thing. I got an email saying we will help to put it on next year. I've been getting the same email every year that I had to cancel it. So I will see what happens next year."
While he has enjoyed a great deal of success as a member of the men's 4 x 400m relay teams in the past, Brown is still looking for his first individual medal in the men's 400m at the World Championships and Olympics.
In the cycle of the four major international meets, Brown has also fallen short at the Commonwealth Games, but he was a gold medallist at the 2007 Pan American Games in Rio de Janeiro, Brazil.
He has won a silver and bronze respectively at the Central American and Caribbean Championships in St George's, Grenada and here at home in 2003 and 2005 respectively.