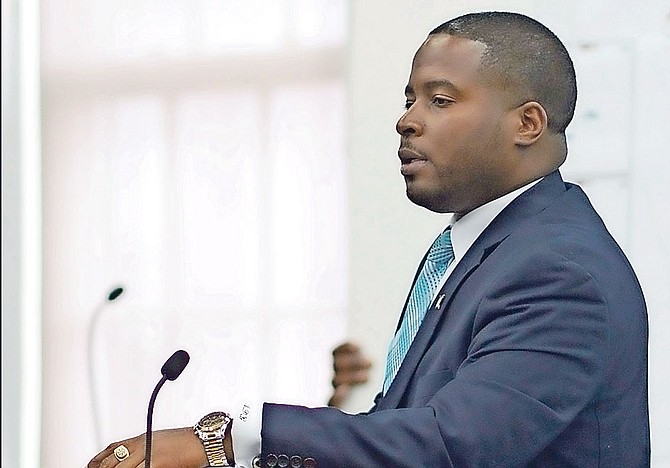 By RASHAD ROLLE
Tribune Staff Reporter
rrolle@tribunemedia.net
THOUGH he supports the tax hike, Long Island MP Adrian Gibson said he wants the government to postpone the increase of value added tax.
Speaking in the House of Assembly yesterday, the Water & Sewerage Corporation chairman said: "While I support the increase in VAT and the simultaneous reduction and eventual elimination on customs duties on various imports, I'm concerned there wasn't a greater degree of public consultation and/or consultation with big business and/or the business community. Given the concerns being expressed, the increase perhaps should be postponed until the third or fourth quarter as opposed to immediate implementation on the 1st of July. In my constituency, I've faced many questions. This would allow business houses to organise their accounts and their affairs. I spoke to Long Island business persons and even chatted with (Super Value owner) Rupert Roberts this morning and I can tell you they feel a brief postponement would be more palatable."
Nonetheless, Mr Gibson said the tax increase is necessary.
"There is no such thing as a free lunch as we seek better infrastructure that would translate into new opportunities for The Bahamas," he said. "To obtain the same we must understand that either the government must raise the funds through taxation or borrow. We cannot have our cake and eat it too. It is a give and take. Our people must appreciate that our need to increase VAT from 7.5 percent to 12 percent, particularly given our accession to the World Trade Organisation, is necessary. One, the country needs supplemental taxation to reduce legacy debt that has astronomically impacted the debt to GDP ratio, and customs duties will in large part be eliminated or greatly reduced when we are slated to join WTO. Our country can no longer survive on credit. Moving forward I would suggest we also implement a debt ceiling."
As for increased taxation of web shops, another controversial budget item, Mr Gibson said communities in Long Island have been negatively impacted by the industry.
"The expansion and proliferation of web shops throughout The Bahamas has caused concern," he said. "Frankly, on islands such as Long Island where we have 15 to 20 web shops, local communities have been negatively impacted in many cases. Frankly, I think that web shops taxes should be even higher. When contrasted to the UK and elsewhere, these operations are being taxed on the lower end. Greater regularisation is needed in the local gaming industry. What's more, I do not yet know of mechanisms in place to assist persons who develop gambling addictions. Have the gaming houses established such centres?"
Mr Gibson called on the government to raise tariffs at WSC, noting the tariff there has not been raised since 1999.
"There is a noticeable cut in the budget allocation for Water & Sewerage," he said. "While that means that operation and collection efficiency must improve to keep the corporation solvent and while I welcome the government's attempt to lessen the reliance of SOEs like WSC on the public treasury, it is also indicative of the urgent need to raise the tariff. . . WSC can hardly meet its obligation as is. No less an institution as the IDB has urged for the same."