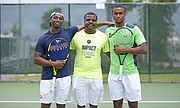 By BRENT STUBBS
Senior Sports Reporter
bstubbs@tribunemedia.net
A year ago, Ricardo Demeritte Jr decided to provide an avenue to help assist our young Bahamian tennis players as they make the transition from the collegiate to the professional ranks through a company called Impact Tennis Academy.
Demeritte Jr, a former player turned coach who has been working behind the scenes with many of the players over the past 4-5 years, has formed a partnership with Owen Forbes and will serve as a local consultant for the players.
"I grew up with these guys and I know their potential," said Demeritte Jr, whose group is getting some international support from Lawrence Carpio, a coach of one of Impact Tennis Academy's members, Kevin Major Jr.
"So we have taken the liberty to help them in their training fitness, getting in touch with the right people and bringing them together as one unit. We want to do as much as we can to help their journey to be as smooth as possible."
So far, Impact Tennis has Major Jr, Danielle Thompson, Justin Roberts, Savannah Roberts, Emma Weech, Larikah Russell and Kerrie Cartwright under its wings as members.
From time to time, Demeritte said they will be working closely with the players to ensure that they get the best options available to get their careers off on the right foot and once they do, they provide assistance in pushing them further along.
"We are really reaching out to those players who are serious and know what they really want to do," Demeritte Jr pointed out.
"We know that they have had some level of success at the junior level and in college.
"But we want to be able to be there for them when they want to take it to the pro level. Our job is just to help them to make it as smooth as possible. It's one of the things that we have been missing from tennis, a transitional or management group.
"They only need to focus on tennis. So we want to be able to do everything else for them, in terms of fund raising so that they can be able to travel to the tournaments to compete.
"I think it's going to be a struggle, but I think it's something that needs to be started, so why not do it now."
This month will mark the first year anniversary of Impact Tennis Academy.
And Demeritte Jr said the academy will be able to assist the players as much as they would like for them to do.