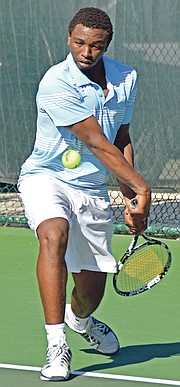 By BRENT STUBBS
Senior Sports Reporter
bstubbs@tribunemedia.net
EVEN though he skipped the trip to Costa Rica to participate on the men's Davis Cup team, Kevin Major Jr said he has no regrets because he was able to get his professional career started.
Major Jr, home after graduating from Seminole State College in Oklahoma last month, made his professional debut, winning the men's singles title at the USTA National Men's Open in Fort Lauderdale, Florida with a 6-4, 6-2 win over American Charlie Force.
The following week, Force earned his first pro points, which has inspired Major Jr to get himself ready to take the next level in the sport.
"I just want to get in shape and play a lot of tournaments and put my play together to make everything realistic," Major Jr said as he worked out with Impact Tennis Academy, coached by Ricardo Demeritte Jr.
"I want to treat everything like a business so I can have some realistic goals for myself, whether they be physical or mental goals, I want to reach those goals."
And just what are those goals?
"My main goal is to play a lot of tournaments because in my junior career, I was semi-successful, but I still didn't play as much tournaments as I should have," he reflected.
"Now my main goal is to play as much tournaments as I could and gain as much experience and exposure as I could. You never really ready until you go out there and play."
Having had a taste of the international competition, Major Jr said he now sees himself in an environment where he could fit right in and be a force to reckon with.
"To realise it more now is kind of cool because you can see where you can be, if you work harder," he said. "I would like to see myself at the top, but in order to get there, I know I have to put in a lot more work.
"It won't be easy, but I am willing to do whatever it takes to get there."
Hopefully at the end of the month, Major Jr intends to participate in his next pro tournament. He's just waiting to see what local consultant Ricardo Demeritte Jr from Impact Tennis Academy has in store for him.
While he was out trying to get himself established on the pro circuit, Major Jr got to watch as the Bahamas team of Baker Newman, Philip Major Jr, Jody Turnquest and player/captain Marvin Rolle advanced out of the American Zone III in Costa Rico to return to zone II for 2019.
"When I saw what they did, I went crazy," Major Jr said. "And to see them have to go right down to the doubles to clinch it was pretty amazing. To be a fan and not a player this time was pretty hard because of the emotions involved.
"When you are playing, you learn how to control those emotions. But as a fan, it's harder to deal with your emotions because you could see how difficult it is to win. Maybe that is what I needed to see. Hopefully we can stay in zone II and even move up to zone one."
Major Jr, who hopes to be back on the team next year, said he couldn't ask for a better two-year stint at Seminole State College in Oklahoma, which has prepared him for the pro ranks.
"I lost just one match in our conference. I was able to beat three top players at the time," he reflected. "I beat the guy who was ranked at number two in the nation at the time in three sets. It was just a miracle ride for me. My team didn't do so well, but I had a pretty solid season. I had a lot of college offers, but I had to turn them down because I wanted to go pro."
Even though he admitted that some people would have advised him against turning pro rather than remaining in college, Major Jr said he just feels as if he's ready.
"I don't want to have any regrets," he said about his decision. "I just think that the time is right for me to go pro."