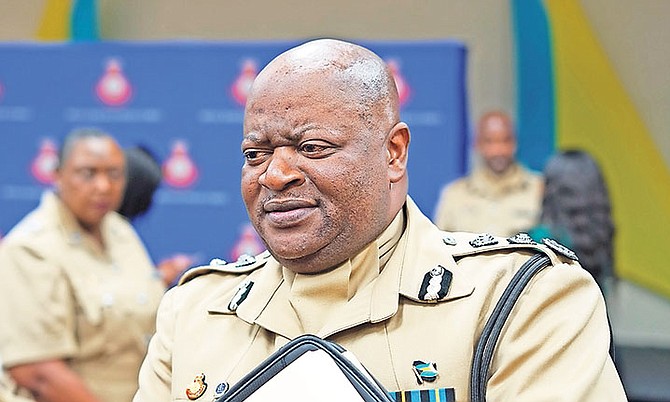 By RICARDO WELLS
Tribune Staff Reporter
rwells@tribunemedia.net
AFTER a spate of murders and amid a heightened fear of crime, the senior command of the Royal Bahamas Police Force held a press conference yesterday to reassure the public the country is still safe.
Police said many of the recent killings were "senseless" acts of opportunity or motivated by robbery, adding increased police presence will be seen on the streets. The double homicide which killed two teen brothers on Saturday was likely due to gang activity and retaliation, police said.
Acting Commissioner of Police Emrick Seymour said despite the recent killings - six since Saturday according to this newspaper's records - police are "working assiduously" to resolve these matters.
Hours after the press conference, police said a shooting at Cox Street off Grant Street in Fox Hill left one man dead and another in hospital.
Flanked by several of his colleagues, including Assistant Commissioner of Police Clayton Fernander, the officer in charge of crime investigations, Acting Commissioner Seymour said members of the public can "rest assured" that the country remains "a safe place."
Of the recent killings, he said police have several significant leads, further contending the recent scourge in crime could be attributed to a "minute percentage" of the population.
He encouraged members of the public to continue to stand with police in its fight against crime.
The acting commissioner also rejected the notion that specific sectors of society were being targeted, namely taxi drivers and school campuses.
A day earlier, Bahamas Taxicab Union President Philip Watkins questioned if taxi drivers were being targeted after two taxi drivers were killed in the past week.
Meanwhile a security guard was shot dead yesterday morning at A F Adderley School.
Acting Commissioner Seymour said there is no evidence to support either view, adding that recent trends suggest that a large percentage of recent crimes were being carried out due to opportunity.
He said police have heightened efforts against crime.
While he stopped short of going into specific details, he said the presence of the RBPF would be seen and felt by those responsible for crime.
For his part, ACP Fernander highlighted a nearly 50 percent reduction in murders for 2018, when compared to the same period over last year. He told The Tribune earlier yesterday there have been 47 killings so far this year. The double homicide last night in Fox Hill increased the count to 49.
Figures presented by the RBPF yesterday showed that at this point last year, the country had recorded 69 homicides.
"We are not boasting," ACP Fernander said. "One homicide is too much."
Addressing several of the recent killings, he added: "Some of the homicide are, as you see, you visit many of them, senseless killings."
He continued: "After investigators came together and analysed all the matters that occurred over the weekend, we are pretty much satisfied, at this present time, that they are isolated matters.
"We don't see a connection at this time," he told reporters. "When you look at the double homicide that occurred on Saturday morning (at) Jerome Avenue, we are following some significant leads in this and the other matters as well.
"Based on our lines of inquiry this far into that matter, we suspect that it could be a gang related matter which resulted in some retaliation and we are following some significant leads with respect to that matter.
"With the taxi driver that had arrived home with his family, we believe that armed robbery was the motive. Based on our lines of inquiry this far, we believe that armed robbery was the motive in that matter.
"The fourth matter that occurred last night in the Fox Hill Road area, we suspect that was something personal because we believe that the deceased person knew his attacker because he was comfortable, based on our lines of inquiry this far and eyewitnesses, that there was some communication and shortly after, he was shot as he walked away.
"So we believe that it was something personal and we are following some good lines of inquiry with respect to that matter as well.
"With the security officer, based again on lines of inquiry, we believe that armed robbery may have been the motive and we are appealing to members of the public who have any information on any of the latest homicides from the communities where these incidents would have occurred, to please, as you usually do, assist the police in trying to advance these investigations," he said.
Yesterday, police issued appeals to speak with nine men they think can help with open investigations ranging from murder to armed robbery.
The group includes Alfred George, Cordell Smith, Edward Colebrooke, Franklyn Dean, Kirby Pierre, Perry Pickering, Shellman McKinney and two unknown suspects captured by video footage in two separate incidents.