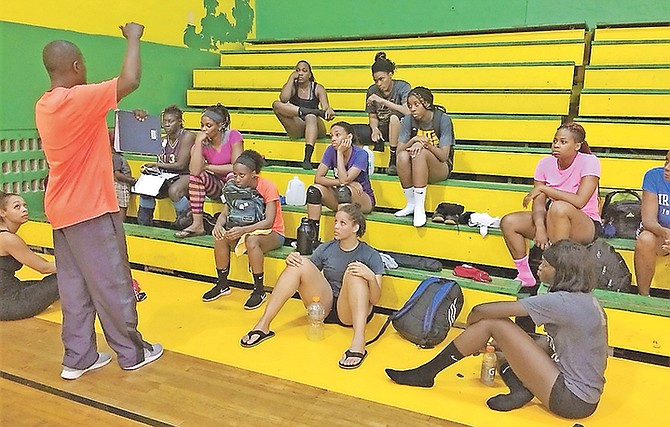 By BRENT STUBBS
Senior Sports Reporter
bstubbs@tribunemedia.net
EVEN though it's a very young team selected, the Bahamas Volleyball Federation and its women's national volleyball team are hoping to make their presence felt when they travel to Suriname to participate in the CAZOVA Senior Championships.
The CAZOVA tournament will run from June 28-July 5.
CAZOVA, which was formed in August 1994 here in Nassau as a non-profit organisation, has a mission of governing and managing all forms of volleyball, including beach volleyball and park volley.
The team was named by BVF's secretary general Crystal Forbes and national team director Lloyd Davis on Wednesday during a practice session at the DW Davis Gymnasium.
Named to the team are Brittany Bonamy - left wing; Melinda Bastian - left wing; Tia Charlow - middle; Brittany Deveaux - middle; Ashley Webb - middle; Eugenie Adderley - middle; Janelle Curtis - right wing; Rachel Knowles - right wing; Je'Nae Saunders - setter; Leandra Armbrister - setter; La'Tavia Braynen - utility and Chandra Mackey - libero.
The head coach is Covance Mortimer and the team manager is Margaret 'Muggy' Albury.
Travel
The women will travel just before the men's national team will head to Suriname for their version of the tournament from August 4-11.
In announcing the team, Forbes said they have a few experienced players traveling in Bastian and Bonamy, both outside hitters; Deveaux, a middle player and Saunders, the setter.
"We feel the team is a pretty good one, even though we will rely on these players to lead the way in experience," Forbes said. "So I think the team will do very well."
Trinidad & Tobago, known for the height and long arm on their more experienced players, are expected to pose the biggest threat to Team Bahamas. But Davis said what they lack in height, Team Bahamas hope to make up defensively.
"The Bahamas team normally play good defence. We block well at the net, so that should compensate for our lack of height," he projected. "We shouldn't have much balls dropping on us, so we should very sound in that category."
As the head coach, Mortimer said he's excited about the mixture of youth and experienced players.
"The youth that we have on the team have a lot of potential, which makes it an exciting venture," Mortimer pointed out. "The expectations for this team, like any other year, is very high. We have the expectations of going there and medaling and improving on what we did last year."
At the last tournament the team finished last, but Mortimer said they have been able to look at their downfall and they have tried to improve on the make up this time around.
"We are incorporating a few things that will somehow simplify our offence," he stressed. "We've worked tremendously over the past few weeks trying to improve on our offence and defence."
Considering the absence of taller players, Mortimer said they can't teach height, so they have been trying to compensate that loss by getting the players to be more skillful.
"Height should not be an issue for us," he summed up.
Bonamy, who has accepted the challenge to lead Team Bahamas, said although they had a short time to prepare for the tournament, she's confident that they will do well.
"We will do great. We haven't had that much time to get our chemistry together, but we will be okay," she insisted. "All we have to do is stick together and stick to the game plan."
Having travelled on a few teams in the past, Bonamy said their strength is definitely their defence, but their weakness will be their chemistry because of the fact that they haven't had that much time to come together to practice.
"Our biggest rivals will be Trinidad and we normally have a good game plan against them," she stated. "Hopefully this time, the plan will work. But they are the number one team in the region."
If they can get through their rivals, Bonamy said their realistic goal is to finish in the top three.