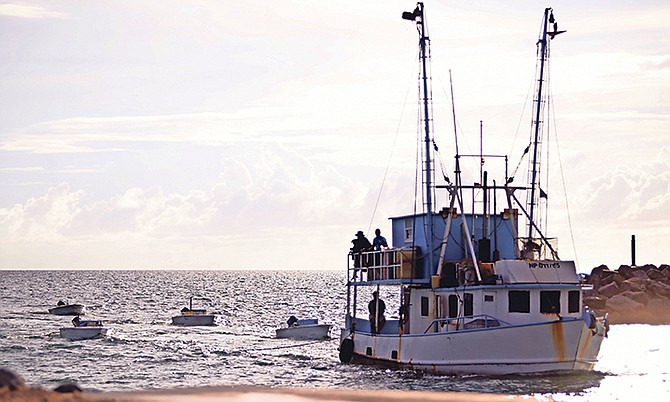 HER Majesty's Bahamian Ship Durward Knowles arrested a Dominican fishing vessel for poaching in Bahamian waters on Saturday morning.
While on routine patrol in the southern Bahamas, HMBS Durward Knowles, under the command of Lieutenant Commander Omarv Saunders arrested a 50-ft Dominican fishing vessel on the Great Bahama Bank.
On board at the time were four Dominican fishermen, along with a quantity of scaled fish. HMBS Durward Knowles is continuing its search for additional crew members of the Dominican vessel who left the area aboard several skiffs.
The arrest comes on the heels of the apprehension of two drug suspects, along with the discovery of 168 pounds of marijuana with an estimated street value of $168,000 on June 10 by RBDF marines stationed at the Exuma Cays Land and Sea Park, along with the park warden.
Two men have been charged in connection with that incident.
On September 18, 2017, the RBDF patrol vessel, HMBS Durward Knowles arrested six Dominican poachers aboard three skiffs in the area of Cay Santo Domingo. The Dominicans were sentenced for engaging in foreign fishing within the exclusive economic zone of the Bahamas and each was sentenced to 18 months in prison. They were also charged with possession of prohibited apparatus for fishing purposes and were sentenced to six months in prison at the Department of Correctional Services.
The Dominicans in this latest incident were taken into custody and will be handed over to police and officials at the Marine Resources Unit.