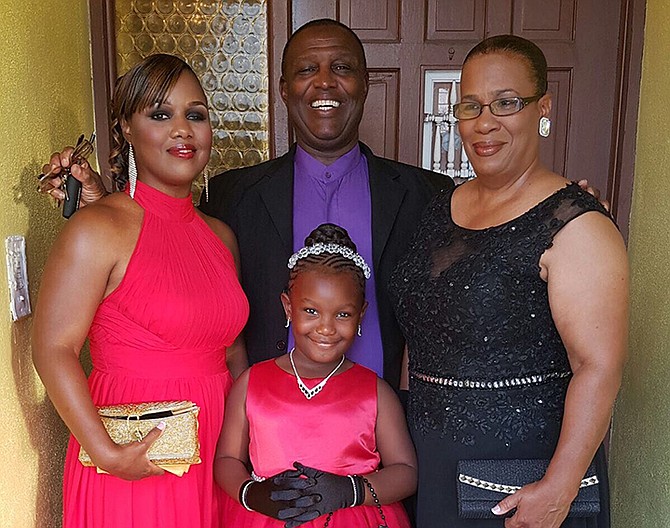 By ALESHA CADET
Tribune Features Reporter
acadet@tribunemedia.net
Desperate to maintain her health and independence, Andree Campbell is asking Bahamians to assist her in getting a life-saving kidney transplant.
For nine years now, the 36-year-old has battled chronic kidney disease. Over time, her prognosis has worsened, leaving her with only two options - dialysis treatments or a costly organ transplant.
While receiving regular dialysis treatments, usually three times a week for four hours at a time, will help her kidneys do the job of keeping her alive, a transplant would offer Andree much more freedom and the ability to live a longer and healthier life. Family members told Tribune Health that a transplant would also give her more time to do the things she enjoys most - spending time with her loved ones.
Andree is the daughter of the Canon Sebastian Campbell, rector of St Gregory's Parish, and Agatha Campbell. She is also the sister of businessman Solomon Campbell.
"God is a God of miracles and I believe that my miracle is on the way. I am motivated by Him and my seven-year-old niece (Simone). I want to be able to live to see her graduate high school. We were having a conversation the other day about my transplant and she told me, 'Well, you know that God can make all things possible'," said Andree.
When speaking of her chronic kidney disease, Andree said it came as a result of having high blood pressure and being a Type 1 diabetic for 18 years.
She wants to encourage Bahamians who are living with diabetes to maintain good blood sugar levels by taking medication as prescribed, as well as eating right and exercising, in order to prevent kidney disease later down the line.
For Andree, living with kid disease has been challenging.
"When I was first diagnosed and just until recently, I feared greatly of having to go on the dialysis machine. I heard so many awful things about it and what it can do to your body. I just hated the word dialysis. It's a major inconvenience, not only to me, but also to my parents and my brother who I have to depend on to take me to and from dialysis every Monday, Wednesday and Friday morning at 5am," she said.
Andree hopes she will be able to have a kidney transplant soon, but the surgery is expensive, estimated at $300,000. In order to make the transplant a reality, Andree has started a Go Fund Me Page (www.gofundme.com/andree039s-kidney-transplant) and opened a medical account at Commonwealth Bank under the number 7033247501.