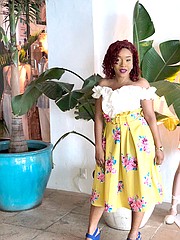 By ALESHA CADET
Tribune Features Reporter
acadet@tribunemedia.net
Best-selling author Latrell King has been crowned royalty by a new magazine that highlights women from the Caribbean, the United States and Canada.
Latrell is an example that there is no stopping a Bahamian woman on the rise. Just last year, the author had not one, but two of her books on Amazon's best-sellers list.
Her e-book entitled "How Successful Women Think" made it to number two worldwide for new releases, while "A Mother's Tragedy" placed third in the category of bibliographies/memoirs.
Now, Latrell has landed herself on the cover of the 'I Am Queen' magazine, established in 2016 by Elle Clarke of the Elle Clarke Media Group. The international publication seeks to highlight the trials and successes of 21st century queens.
Past covers have featured women like the 'The Queen of Bacchanal', soca star Destra Garcia, as well as socialite and businesswoman Jaimie Hilfiger (niece of Tommy Hilfiger) and millionaire coach Stormy Wellington.
Being chosen as the face of the May issue, Latrell told Tribune Woman, has been a "breath-taking" experience. It gave her a "sense of international accomplishment," she added.
The magazine's feature article highlights her accomplishments under the headline "Becoming a Business Mogul" and speaks to the inspiration behind her latest book, "How Successful Women Think".
"I always got that question from women older than I am. People always told me I inspire them, and so as a gift to my followers I wrote a self-help book with steps that will catapult them into the new era in their lives," said Latrell.
The book covers topics such as: eradicating unhealthy thought patterns; improving self-belief and confidence; speaking positively and purposely into your future; redirecting your life by taking note of personal goals, and changing and controlling your environment.
In addition to being a successful author, Latrell is also the founder of the local cosmetic line called Liptude, an all-natural make-up brand that seeks to enhance a woman's features and promote skin health.
"I am indeed passionate about the application of makeup and it is an unexplainable joy when a woman feels that she is beautiful. Another benefit is to assist woman in areas of makeup application that they struggle with. In the future I wish to see Liptude products in the Walmart beauty section, Sally's Beauty Supply Store, Ulta Beauty and online websites," said Latrell.
When the CEO of the 'I Am Queen' magazine connected with her via social media, Latrell said Elle Clarke commended her on her work, success and consistency.
"It made me feel like a mogul. It made me feel like a queen. I have received a lot of positive feedback from my Facebook and Instagram community as well as international feedback since the feature was published. This experience has taught me that when you think the world is not watching or your efforts are going unnoticed, they are not. It has taught me that consistency does pay off and I should never stop dreaming because someone is paying attention. There is no dollar value you can place on exposure. The exposure I received from being featured on this magazine will assist immensely with the growth of my career and my credibility," she said.
Latrell is also thankful to have been featured on the Steve Harvey Show as a "Hey Steve Guest". Latrell said the recognition she gained from this exposure has opened numerous doors for her.
On Saturday, June 30, she is looking forward to hosting an event called "Successful Conversations with Faith King and Friends".
"I will be sharing this platform with two other beautiful women: Mrs Miami International Delpha Clark Samuels and Kelly P, CEO of Beauty Beyond Feelings. I will also be travelling to network with industry professionals that seek to bring more exposure to my brands and my books," she said.