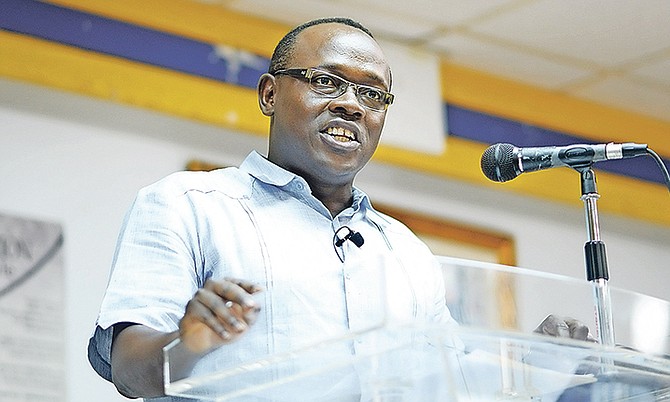 By RICARDO WELLS
Tribune Staff Reporter
rwells@tribunemedia.net
EXUMA and Ragged Island MP Chester Cooper yesterday vehemently denied claims he applied for candidacy with the Free National Movement ahead of the 2017 general election.
The Progressive Liberal Party deputy leader was responding to comments made by Prime Minister Dr Hubert Minnis during his communication on the 2018-2019 budget, when he mocked Mr Cooper for his decision to join a failing PLP over the FNM.
Addressing the claims during a press conference called by the PLP to respond to Dr Minnis' communication in its entirety, Mr Cooper dismissed the claims as "fake news" and "FNM propaganda".
"You know, if we hadn't experience fake news becoming real, I wouldn't even respond to it," he told reporters. "It is not worthy of response."
Nearing the midway point of his communication yesterday, Dr Minnis, in trying to expound on the PLP's mismanagement of the revenue it earned after the introduction of value added tax in 2015, berated the senior brass of the former Christie administration.
It was at this point Mr Cooper could be heard defending the former government.
In a move to seemingly silence Mr Cooper, Dr Minnis fired back: "The Christie PLP. The Christie/Davis PLP left an annual financial hole of over hundreds of millions of dollars. The Christie/Davis PLP; the Christie/Davis PLP, Chester not you, you was not there yet, you was sending your application to join the FNM.
"Don't forget," he added. "He double-crossed me, that's why I must put a prime minister's office in Exuma and spank him."
The discussion, however, carried over to the afternoon period of yesterday's parliamentary proceedings.
Mr Cooper said he, in the lead up to the 2017 general election, met and held discussions with several political organisations to run for political office.
He again denied claims he petitioned the FNM for candidacy.
This denial prompted Dr Minnis to "clarify" his earlier comments, restating the claim to suggest that he and Mr Cooper held talks on a possible stint with the FNM.
"You did not send a formal letter, but you and I were in discussions," Dr Minnis said. "Three weeks later I was shocked when I saw you campaigning for the PLP."
In a retort, Mr Cooper then admitted to "speaking" to Dr Minnis, but insisted that those communications were in line with much of the discussions he had with every other political party to ascertain their plans for moving the country forward.
"I would not deny speaking to the member of Killarney," he said. "No application was made… whilst many parties and political organisations invited me to run for office, no application was made."