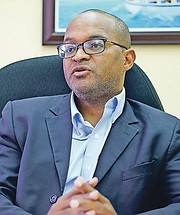 By RASHAD ROLLE
Tribune Staff Reporter
rrolle@tribunemedia.net
The Free National Movement's Centreville Constituency Association
regrets backing Reece Chipman's nomination for Parliament and will not recommend he be re-nominated in 2022, association chairman Juan Cartwright told The Tribune yesterday.
Mr Cartwright said he would prefer if Mr Chipman resigns right now as the MP for the area.
He revealed Mr Chipman was neither the association's first nor second choice to represent the constituency. Those spots belonged to Lanisha Rolle, who eventually ran and won in the Seabreeze constituency, and businessman Mark Roberts who rejected the nomination for personal reasons, he said.
Mr Cartwright said it was Prime Minister Dr Hubert Minnis who asked the association to work with Mr Chipman. 
"We feel betrayed by him," he said two days after Mr Chipman voted against value added tax's increase to 12 percent.
Mr Chipman never consulted the association before taking that position, he added. 
"There is a disconnect between Mr Chipman and the association. He feels he could make decisions without informing us. Right now, we can't support anybody we have such a disconnect with and who makes decisions for personal reasons."
Mr Chipman, who was fired as chairman of the Antiquities Monuments & Museum Corporation in March for unknown reasons, countered yesterday that he believes he has the support of most Centreville residents.
"I consulted the community before my VAT vote," he said. "We walked door to door to get feedback. I don't know if (Mr Cartwright) wanted me to just consult the FNM association because then I would also have to consult the PLP association if I wanted a feel for the partisan position on this issue. The decision I made was based on the community and what they felt in terms of the cost of living, of unemployment, of a commitment to make life better for themselves."
Friction between Vaughn Miller and Travis Robinson and their party associations in Golden Isles and Bain and Grants Town respectively has also been reported since the pair joined Mr Chipman and Pineridge MP Frederick McAlpine in voting against the VAT hike.
Mr Chipman said his phone has been ringing off the hook with residents overwhelmingly backing his decision. He brushed off notions that he will not be re-nominated in the constituency for the FNM, adding he has given no serious consideration to leaving the governing party. 
"I think the people will back me, they will support me," the first-time MP said. "The political fabric of our country needs work. The association just needs to be educated to the point where they do not let politics set them up. They may think they are doing the right thing, but it hurts so many, just like the VAT hike."
As for cries he is disconnected from the Centreville community, Mr Chipman said: "I have walked more hours, knocked on more doors than 90 percent of the FNMs sitting in the House of Assembly. (Mr Cartwright) probably doesn't know I campaigned in this area as far back as 2005 and I was offered the nomination in 2007. I need him to learn a little more because he is new to this. He has probably never even been to an FNM council meeting where people vote for our party. I don't know if he has ever read our party's constitution. When you embrace a negative approach to our party's framework, it's important to get the information right."