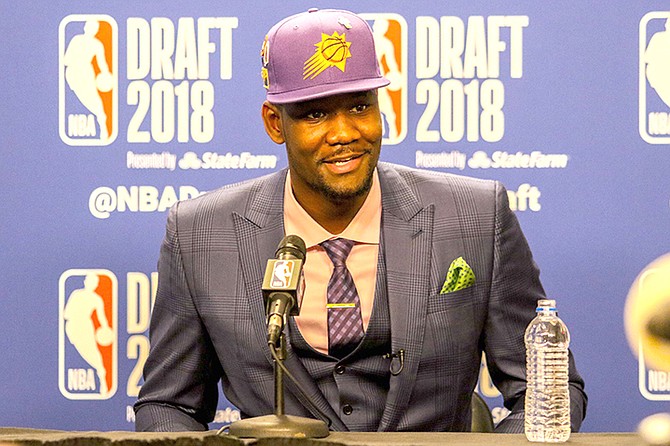 By RENALDO DORSETT
Tribune Sports Reporter
rdorsett@tribunemedia.net
BROOKLYN, New York - When the Phoenix Suns selected Deandre Ayton with the first overall pick in the 2018 NBA Draft, it represented a historic moment for Ayton, the franchise and The Bahamas.
With Ayton's selection, The Bahamas now joins the United States, Canada, Nigeria and Australia as the only countries with multiple No 1 overall NBA draft picks.
It also represented the first No 1 pick made by the Suns in franchise history and the first No 1 pick from the University of Arizona.
"This is a great blessing. I worked hard for this. I had a lot of confidence because I knew I deserved this. There was stuff I went through to get to this point, and I'm just happy to be here and happy to be with the Phoenix Suns," Ayton said.
"Having my name called to be the first pick for the Phoenix Suns was mind-blowing. Having all that confidence and leading up to that point when I saw Adam Silver came out, I was just waiting for my name, and when he called it, my mind went blank. I just did the routine everyone else was supposed to do, and I just got up there and enjoyed the moment, and I saw the reaction on my mom's face. It was just priceless."
Ayton also previously participated in Basketball Without Borders (BWB) Global 2016 in Toronto, Canada and joins Andrea Bargnani (Italy; BWB Europe 2003; 1st overall in the 2006 NBA Draft) as the highest drafted former Basketball Without Borders campers ever.
He is the ninth consecutive college freshman to be selected with the first overall pick.
The Suns have drafted as high as second twice, in 1969 and 1987.
They finished the 2017-18 season 21-61 but return a promising young core led by rising star guard Devin Booker who averaged nearly 25 points per game last year.
Ayton previously mentioned the prospects of teaming with Booker to create one of the league's most dynamic tandems.
"Basketball is really changing, so the two-man game is really hard to stop. Having a guard like Devin Booker, who can really score the ball, and me being a big man who can really pick-and-pop, very versatile, that's very dangerous," he said, "The team, in general, is a very young and hungry team. We just have to stick together, get a great chemistry and start a winning legacy in Phoenix."
During his lone season at Arizona, Ayton led the NCAA with 24 double-doubles, a PAC-12 freshman record.
He averaged 20.1 points and 11.6 rebounds per game while shooting 61.6 percent from the field, and was "Karl Malone Power Forward" of the year consensus First Team All-American.
Ayton was one of only four players in the nation to average the aforementioned double double.
He was also Pac-12 Conference Player of the Year, Freshman of the Year, All-Defensive Team selection and Most Outstanding Player of the conference tournament. The first player in conference history to win all awards.
Coming out of Hillcrest Academy in Phoenix, Arizona, Ayton was the No 1 overall prospect in America. He was selected to the USA Today All-USA Boys Basketball Team and was also a McDonalds and Jordan Brand All-American.
At the national team level, he was a member of the senior men's Centrobasket squad and led the team in both points and rebounds as a high school junior.
Ayton was discovered locally at the Jeff Rodgers Summer Basketball Camp before he headed to Balboa City School in San Diego, California. He eventually transferred to Hillcrest Academy.
"At the Jeff Rodgers Camp I didn't think I fell in love with the game right there. My mom just wanted me out of the house during the summer. That's when I really got exposed, that's when the opportunities started, but it's just great. When I came to the United States, I knew what hard work was," Ayton said, "The hard work really starts now. I told my mom, you think we were working, but the hard work really starts now. We've got a lot of work to do, and after the summer we'll probably catch a breath."
Ayton used his platform on draft night to talk about the improvements he hopes to make in opportunities for other young Bahamian basketball players and displayed the lining of his jacket which paid homage to his multicultural heritage.
"I want to bring to The Bahamas, they don't have to leave home to think that they have an opportunity. We can bring the opportunity to them. I can help bring the opportunity to them. We can just start schools, we can start better basketball opportunities to really have more exposure. Instead of coming to the United States or going overseas, we'll just be at home and start our own trend," he said.
"My dad is from Nigeria, my mom is Jamaican and Bahamian, so I'm helping all those countries in one. I'm not just a Bahamian. I'm Nigerian and Jamaican. So I just want to let the world know that."