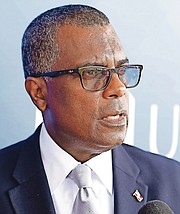 By RASHAD ROLLE
Tribune Staff Reporter
rrolle@tribunemedia.net
THE Progressive Liberal Party (PLP) has raised nearly $9,000 from 73 participants in what party Chairman Fred Mitchell calls a programme to cure the "Andre Rollins, Greg Moss and Renward Wells problem."
To be on the PLP's ticket in the future, aspiring candidates must attain a certificate after enrolling in the module which is designed to educate them about the party's values and history.
The programme is part of the PLP's reform push following its crushing general election loss in 2017.
The party previously established a committee to review its constitution, a report about which is expected to be released this month.
Participants in the programme must pay a $120 application fee.
"The monies cover the cost of the programme," Mr Mitchell said yesterday. "It's not a profit centre."
"The mischief this is designed to cure is to see if we can avoid the Andre Rollins, Greg Moss, Renward Wells problem where people use the party for their purposes and then when it becomes convenient, they attack the party and then go (on) their way. Secondly, people feel there is a need for people to be more firmly grounded in what the PLP actually believes and not approach candidacies as a beauty contest but rather people who are really interested and knowledgeable about public service and what that means."
The three men, former members of the PLP, won seats in the House of Assembly in 2012, but left the party after falling out of favour with the top brass for various reasons. Dr Rollins and Mr Moss in particular had launched blistering attacks on the PLP while members of the party as each grew disillusioned with its leadership and decision-making.
The programme comes with a reading list with books like "My Political Memoirs" by Sir Henry Taylor, "Islands in the Stream" by Dr Gail Saunders and Michael Craton, and the "Biography of Sir Lynden Pindling" also by Mr Craton.
Some of the speakers this week will include former parliamentary clerk Maurice Tynes who will speak about parliamentary procedures and the role of a backbencher as well as former MP Philip Galanis who will speak about how policy is generated. Among the requirements of PLP candidates, according to a brochure about the programme, is that they be "free of scandals and not involved in malfeasance or misfeasance."
The brochure said: "In a nutshell, candidates should be imbued with a strong commitment to positive, progressive principles and willing to expose themselves to intense public scrutiny and remain in the arena and stay the course, because they are committed to fight for a cause greater than themselves."
At the opening ceremony of the programme Wednesday, Mr Mitchell said the teachings would be instructive for poll workers, those desiring statutory board appointments and anyone else interested in public policy.