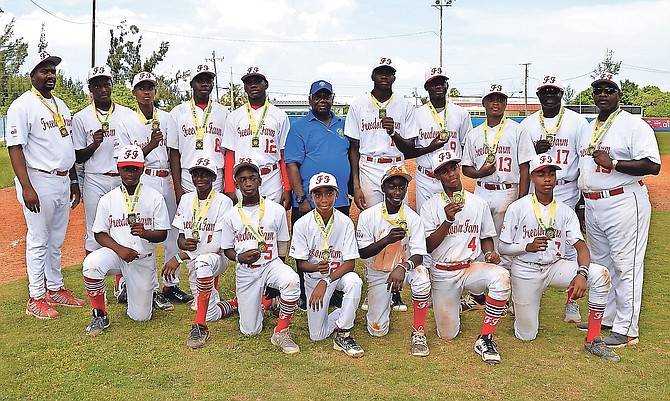 By BRENT STUBBS
Senior Sports Reporter
bstubbs@tribunemedia.net
GRAND Bahama -- Back after a year's absence, Freedom Farm clinched a 4-3 walk-off-the-field victory to secure the boys' 14-under championship title over the Grand Bahama Little League yesterday in the Bahamas Baseball Association's National Championships at the Emera Baseball Stadium.
With two out and the bases loaded in the bottom of the fourth and time expired, Freedom Farm got struck out to extend the game. In the fifth, catcher Tyler Wallace got a one-out single to right field to plate shortstop Ryan Reckley with the game winning run. Reckley started the inning with a leadoff triple.
Freedom Farm's head coach Clarence McKenzie said it was a chance to regain their prominence.
"This one was very sweet. After being absent last year, we had to prove that we are still the number one baseball league in the country," McKenzie said. "The competition was very stiff. This is the second time we played them and it came down to a one-run differential in order to get the win.
"That shows the high level of play to get the win. The game should have been over in the third, but we went to the fourth and had the winning run 80 feet away, but we couldn't capitalise. We came back in the fifth with a runner on third and no one before Tyler came up with the winning hit."
Wallace, the catcher, ended up going 1-for-3 with a RBI and was named the most valuable player. Reckley finished with a 2-for-3 day with a run scored. Right fielder Davante Brown was 1-for-2 and third baseman Cheriff Neymour and second baseman Raheem Stubbs both scored a run.
"The first two out bats, I grounded out to second, but on my last at bat, I drove it to right," said Wallace, a 14-year-old preparing to enter grade 10 at St Augustine's College in September. "I was looking for the pitch."
Davante Brown was the winning pitcher and Brandon Hutchinson got tagged with the loss.
Hutchinson also helped his own cause by going 1-for-3 and both shortstop Jay Knowles and catcher Sterry Martin and third baseman Adari Grant all scored a run for Grand Bahama, coached by Sidney Thomas.
"It was a close game, but our defence wasn't there," Thomas said. "Hitting was our problem. We didn't hit the ball like we are capable of doing. A lot of our good batters got strike out. We didn't like we were capable of doing."
Thomas said he knew that it would have been a very close game because both teams are evenly matched. But Freedom Farm put the timely hits when they needed and they came away with the close encounter.
In their round robin match-up, Freedom Farm nipped GBLL 2-1 as centre fielder Andre Arthur was 1-for-2 with a RBI and a run scored and catcher Tyler Wallace was 1-for-2 with a RBI. Tyler Munroe got the win on the mound.Kymani Shepherd was the losing pitcher.
Centre fielder Gio Russell was 1-for-2 and second baseman Jay Knowles scored their only run. The 14-under bronze medal went to the Junior Baseball League of Nassau with a 13-0 shutout over the Community Baseball League.
JBLN 13, Community Baseball 0
Catcher Norman Bastian went 2-for-3 with two RBI and two runs scored, shortstop Kameron Smith was 2-for-2 with a RBI and three runs scored and left fielder Sky Hanna was 1-for-4 with a RBI and two runs scored for the JBLN rout.
Tavares Minnis tossed a two-hitter with five strike outs for the win. Deone Lockhart got the loss as Community Baseball, coached by Fred 'Papa' Smith, gave up just five hits but committed eight errors.
Third baseman Timothy Cleare and infielder Elgah Carroll were both 1-for-2.
Freedom Farm was a perfect 3-0 during the round robin play. Grand Bahama ended up 2-1, while the Junior Baseball League of Nassau was 1-2 and the Community Baseball went winless at 0-3.