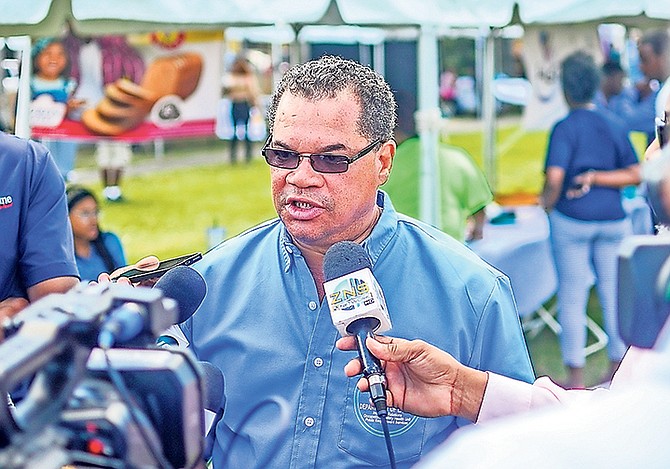 By RICARDO WELLS
Tribune Staff Reporter
rwells@tribunemedia.net
LABOUR Minister Dion Foulkes yesterday confirmed the start of the government's three-part legal notice process for shanty town residents across the country, insisting the July 31 eviction deadline will be adhered to.
Speaking with reporters during the Senate's lunch recess yesterday, Mr Foulkes, who spearheads the government's Shanty Town Action Task Force, confirmed officers sanctioned by the body had commenced the delivery of a request for shanty town residents to show legal documentation of their right to the lands they now occupy.
According to the senator, the move was the first step in a three-part process that looks to definitively verify whether residents have a legal right to occupy the lands they now do, all while systematically removing those residing illegally.
"Today is the first round, which gives the residents in all the shanty towns an opportunity to show whether they have a legal right to be there," he told reporters.
Mr Foulkes continued: "Whether they have an occupancy certificate or whether they have any conveyance for the land upon which they live."
"That is one of the requirements that we have to do, pursuant to the advice from the Attorney General's Office," he said.
"The second round would be the actual notice which will be in two weeks, requiring all of those persons to move who do not have a right to be there.
"The third notice would be from the Department of Environment, which will give notice to all vehicle owners to remove their vehicles, that's trucks, cars, motorcycles; whatever is there," he said.
Mr Foulkes said if the process is not complied with, government agencies will immediately move in and "remove them."
"But all of the legal notices will be given," he added.
Mr Foulkes said upon completion of this process, the government would have completely removed all debris, unsanctioned homes, derelict vehicles, outdoor toilets and abandoned animals from the properties – rendering the lots vacant.
Last week Mr Foulkes indicated that 50 per cent of shanty town residents had already packed up and vacated various communities across the country.
That came on the heels of comments earlier this month when he confirmed the government remained on track with its eviction deadline, crediting specifically the continued efforts by various stakeholders in the shanty town communities.
The government's survey was conducted in ten shanty towns over a four-week period from Elizabeth, Carmichael (Garden Hills), and Golden Isles constituencies, and with the help of 60 enumerators from various government agencies.
The populations of the communities were originally reported as: Montgomery Avenue, 115 residents; Allen Drive; 28 residents; Bellot Road; 10 residents; Golden Gates Road, 291 residents; Lazaretto Road, 56 residents; Cowpen Road (west), 165 residents; Bacardi Road east, 39 residents, and west, 96 residents; and Lumumba Lane, 160 residents. The report also included 27 residents who participated but were not categorised by location.