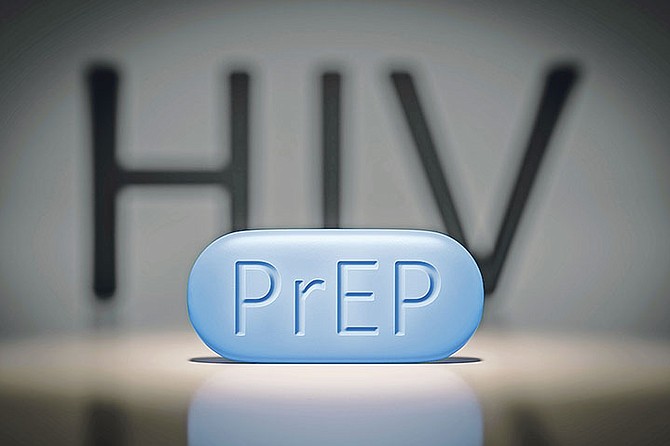 By ALESHA CADET
Tribune Features Reporter
acadet@tribunemedia.net
pullquote: "PrEP is not a magic bullet, it only works if taken as prescribed, daily for now. Adherence is key."
The Bahamas is among the first countries in Caribbean to introduce what some are calling a game-changer in the fight against HIV/AIDS: Pre-exposure prophylaxis, or PrEP.
PrEP is when people at very high risk for HIV take HIV medicines daily to lower their chances of getting infected. According to the Centres of Disease Control in the United States, PrEP can stop HIV from taking hold and spreading throughout the body. It is highly effective for preventing HIV if used as prescribed, but it is much less effective when not taken consistently.
Daily PrEP reduces the risk of getting HIV from sex by more than 90 per cent.
Highlighting the topic of PrEP, Dr Nikkiah Forbes, director of the National HIV/AIDS and Infectious Diseases Programme at the Bahamas Ministry of Health, said it is important to stay abreast of all new developments in the global fight against HIV/AIDS, which is still on the rise around the world.
PrEP is an oral HIV prevention strategy in which a high-risk HIV negative individual takes antiretroviral medication (medication that works against HIV) regularly to prevent HIV infection.
The medication tenofovir-emtricitabine, or tenofovir-lamivudine, is approved for HIV PrEP by the FDA. HIV PrEP is a one-pill-a-day regimen and must be taken daily and as prescribed in order for it to be effective. It is a prescription medication and must be prescribed by physicians. Full physician consultation and follow-up is a requirement for PrEP.
Dr Forbes explained that people who are HIV negative and at substantial risk for HIV infection should be offered PrEP as an additional HIV prevention choice and in combination with other HIV prevention options.
"HIV negative individuals at substantial risk for HIV infection include those with a recent sexually transmitted infection, multiple partners and inconsistent, low or no condom use, men who have sex with men, and persons exchanging sex for money who engage in unprotected sex, and also HIV sero-discordant couples (one partner is HIV positive and the other partner is HIV negative), especially if the HIV positive partner has not achieved an undetectable viral load determined during routine blood testing," said Dr Forbes.
PrEP is currently available for eligible individuals after consultation with trained, approved physician providers. After a consultation, the physician usually puts together a medical history to determine a person's eligibility, order and review all needed investigations and review the results before prescribing PrEP.
As a consultant physician in Internal Medicine and Infectious Diseases at the Princess Margaret Hospital and Doctors Hospital, as well as being an associate lecturer in Medicine at the University of the West Indies, Dr Forbes believes PrEP is an important topic for HIV prevention. She also believes it has changed the conversation about HIV prevention as a whole, although it is not a standalone strategy.
"I am committed to seeing the end of AIDS in the Bahamas. Recent policies implemented by National AIDS Programme included the policy to 'treat all' persons living with HIV in the Bahamas, regardless of immune status, and with the Pre-Exposure Prophylaxis prevention strategy. We were among the first countries in the Caribbean to implement this," said Dr Forbes.
More than 30 years into the HIV epidemic in the Bahamas, Dr Forbes said physicians are still seeing new infections; hundreds per year. For her, it is important to keep HIV at the forefront of people's minds because HIV is an infection that is preventable, and preventing new HIV infections is extremely important in the fight to ending HIV and AIDS in the Bahamas.
Approximately one in 50 Bahamians is HIV positive, and the country is ranked as having the highest prevalence of HIV outside Sub-Saharan Africa.
"HIV infection can be prevented in many ways: abstinence, condoms and water-based lubricants, HIV and STI testing – 'knowing your status', reducing risk behaviours, HIV treatment and PrEP, too," said Dr Forbes, who has been involved in research and has presented her work at regional and international scientific meetings.
"Why do we need PrEP and other prevention modalities to reduce the sexual transmission of HIV? Simply because there is no single HIV intervention that is 100 per cent efficacious and effective. That is where combination prevention comes in."
She said HIV PrEP is the newest HIV prevention intervention, and it needs to be highlighted so persons can be aware of it, know what it is, how it can help to prevent HIV infection, how it should not be used and the dangers of not using it as prescribed.
PrEp is available through the National HIV Centre in the Bahamas and from trained providers. Persons can ask their health care provider about HIV PrEP.
When asked about its safety and side affects, Dr Forbes said PrEP has an excellent safety record. It is very safe with no side effects for 90 per cent of users. She said about 10 per cent of people will have side effects, including diarrhoea, nausea, decreased appetite, abdominal discomfort, worsening kidney function, and a slight decrease in bone mineral density. It does not protect against sexual transmission of many other sexually transmitted infections.
"Again, PrEP is not a magic bullet, it only works if taken as prescribed, daily for now. Adherence is key. It must be prescribed by a physician. There is the need for a full physician consultation first, an assessment by the physician, lab testing and the review of results, follow-up visits and follow-up testing, review for side effects and to ensure the person in HIV negative prior to starting PrEP and to make sure HIV infection and other sexually transmitted infections are not acquired while on PrEP," she said.
Although new infections have been reported as decreasing, the Bahamas still has new cases every year, with 151 new HIV cases reported by the Ministry of Health in 2017.
"HIV and AIDS is not over, we have a lot to do to end HIV and AIDS. HIV infection is preventable and preventing HIV is pivotal to the fight. PrEP is one part of the HIV prevention strategy," said Dr Forbes.
• Know your status – Get tested for HIV this Friday. The National HIV/AIDS Programme, in collaboration with the Tribune Group, will host National Testing Day from 8am - 4pm in Royal Victoria Gardens on Shirley Street.