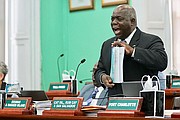 Reader poll
211 total votes.
By KHRISNA RUSSELL
Deputy Chief Reporter
krussell@tribunemedia.net
PRIME Minister Dr Hubert Minnis has given permission to Official Opposition Leader Philip "Brave" Davis to travel to the Family Islands on the public purse to present his arguments against the value added tax increase.
The Cat Island, Rum Cay and San Salvador MP raised the matter at Parliament yesterday saying the "other side" of the VAT argument ought to be heard by Bahamians who have been in attendance during tours to the islands where the prime minister has explained the reasoning behind the increase to 12 percent among other budget measures.
Mr Davis said he wondered whether the prime minister would agree to his state paid travel for the sake of the deepening of democracy.
Dr Minnis toured the major settlements of Andros on Monday and was in Exuma yesterday where he spoke about the government's 2018-2019 budget.
In response to Mr Davis, Dr Minnis said: "I was so honoured when the member, the leader of the opposition, recognised the good work that we are doing.
"But Mr Speaker, it is true that I am going through the Family Islands educating the people about how important it was for us to increase the VAT and we just finished South Andros, Mangrove Cay, Central Andros and North Andros.
"I leave here today at 5 o'clock to go to Exuma after which I will go to Cat Island, Rum Cay and San Salvador. I am going to go to Jamaica to a CARICOM meeting and upon my return I along with the member for Bain and Grants Town, intend to have a town meeting explaining the budget and the benefits for Bain and Grants Town.
"As for me travelling, travelling today (Wednesday) with me will be the minister of state for legal affairs, one of my senators and of course the media so the entire Bahamas can hear exactly what I am saying. I have no objection with you going, but you cannot go with me because I'm speaking positive things.
"I was for VAT and explaining why VAT is so significant for the many things we want to do for them. You are against VAT so you will have to explain why you are against.
"But we will support you. Since you have no minister to accompany you, you have to go alone. But I have no problem. You may travel and do whatever you may."
Dr Minnis also joked: "I have to speak to the minister of finance to see what's there."