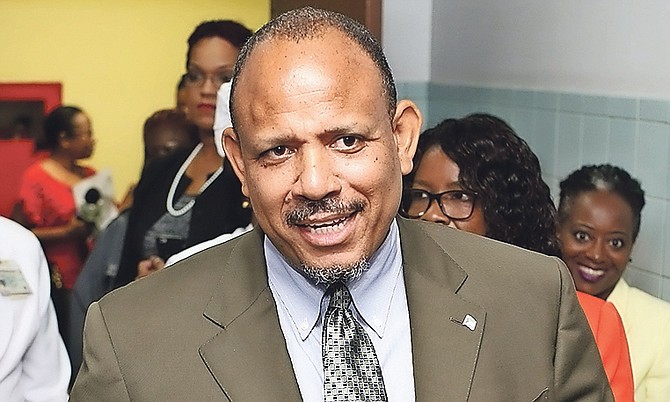 By Farrah Johnson
HEALTH Minister Dr Duane Sands said he believes a revamped approach to HIV prevention and treatment inclusive of sex education and free contraceptives for students is "the way to go".
At the Testing in the Gardens event Friday, the minister said the country is living in a "bubble", where Bahamians "pretend like they don't have sex", and if they do, they act as if "it's always responsible or protected."
"We see a significant number of teen pregnancies, and we're not only seeing HIV, but syphilis, gonorrhea, chlamydia, herpes and other sexually transmitted infections," he told reporters on the sidelines of the event at Victoria Gardens.
"Part of this has to do with the fact that we have not been real with the conversation, particularly with our young people, and so they operate with misinformation. I think now we can no longer afford that naivety. So we have to keep it real," he said.
Dr Sands also said that the conversation as to making contraceptives like condoms available is going to "hit hard up against conservatives", who believe that celibacy is the only way.
He admitted that while celibacy is "indeed" a strategy, the question still remains on whether the practise holds any weight with the Bahamian population.
"We know that a lot of our young people 14, 15, 16, 17, 18 (are) having sex. I ask people to look in the mirror and ask yourself, when did you first have sex? And if the answer was 15 or 16, then why would you think it's going to be any different now?" he asked.
The minister said the "social approaches" employed over the last decade need to be "revisited" and assessed "critically."
"Sex education in schools? –Absolutely. Availability for condoms in schools for free? –Absolutely," he said.
"When we start to get into what exactly we do in the schools and how we liberalise access to birth control and other types of family planning tools, it is really going to get hot because you're going to buck heads with a number of individuals who feel that maybe we're pushing an agenda which is going to encourage promiscuity," he explained.
Still, he insisted that this was not the case, emphasising that the main goal is to "ensure that not a single additional Bahamian is HIV infected."
The minister said this indicates that measures have to be employed to save "at-risk youth", as well as vulnerable people, who he characterised as gay men, commercial sex workers, and "people with multiple partners."
Dr Sands asked people to "acknowledge" that the strategies employed in the past "have not worked well."
He also revealed that the ministry is working on a "90/90/90 strategy", in an effort to eliminate HIV in The Bahamas by 2030, after stating that the country has the highest rate of the virus outside of Sub Saharan Africa.
"What we intend to do is to know the status of at least 90 percent of the people who are HIV positive in The Bahamas, and of those 90 percent, we'd like to know that 90 percent of them are on effective treatment, and that at least 90 percent of them, have adequate suppression of the virus," he explained.
Still, Dr Sands expressed some content over the "tremendous strides" they have made in "reducing the number of HIV infected persons over the years."
"So the idea of having everybody know their status – if you turn out to be negative—then you can reinforce your safe sex behaviours—if you turn out to be positive –we will counsel you confidentially and sympathetically, and compassionately, but we will tell you about all of the treatment that is available to allow you to live as close to a normal life as possible," he said.