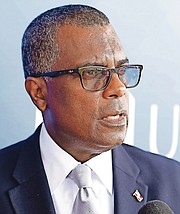 By RASHAD ROLLE
Tribune Staff Reporter
rrolle@tribunemedia.net
PROGRESSIVE Liberal Party chairman Fred Mitchell is questioning why the heads of agreement for Oban Energies that Prime Minister Dr Hubert Minnis tabled Thursday evening featured no signature from Peter Kriegar.
Mr Kriegar was the face of the project, the non-executive chairman of the company who signed a document last week at a media event marking the signing of the heads of agreement.
However, his signature was nowhere on the tabled document. That agreement was signed by Satpal Dhunna, identified as the president of Oban Energies.
At an immigration press conference yesterday, Mr Mitchell said: "Which document is the document that we are relying on as the heads of agreement? Yesterday the government tabled what was supposed to have been the heads of agreement between Oban and the government and then we looked at the signature page and the signature page had someone who was not at the signing for what was supposed to have been the signing. So were there two different documents and if there are two different documents which one are we relying on, the one that's in the House or the one that was signed (at the Office of the Prime Minister)? I'm told there was a whisper across the floor that the signing was only ceremonial but if that's the case that's a great fraud perpetrated on the Bahamian people; it's a hoax and so an explanation has to come forward as to why we're dealing with two different signatures or signatories to this supposed heads of agreement."
Mr Mitchell stopped short of questioning the credibility of the process, but said: "Our whole response to this as a party was this heads of agreement was cobbled up simply to get them out of the issue with (House Speaker Halson Moultrie) and the rubbish which he spoke and embarrassed them as a party, so they had to cobble this up quickly together to shift attention away from that and, of course, in the rush you make lots of mistakes and now people are picking it apart."