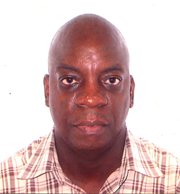 By BRENT STUBBS
bstubbs@tribunemedia.net
ACCOLADES continue to pour in for the late Sir Durward Knowles, better known as the "Sea Wolf," who passed away on Saturday, February 24 at Doctor's Hospital.
Knowles, who turned 100 on November 2, was celebrated as the oldest living Olympic gold medallist, having participated in a record eight four-yearly games as a star class sailor.
He was a two-time Olympic medallist, having won a bronze with the late Sloane Farrington in 1956 in Melbourne, Australia and the gold with the late Cecil Cooke in 1964 in Tokyo, Japan.
Knowles also won a gold medal at the Pan American Games with Farrington in 1959 in Chicago, USA, while earning a gold, a silver and two bronze medals at the World Championships.
While his exploits as a sailor are well documented, Knowles also played a pivotal role as a philanthropist as he assisted many organisations, including the Baptist Sports Council, of which I served as a president.
I remember on occasions before he got his secretary to sign the cheque, Knowles would wittingly state: "You are a Baptist and you are asking a Methodist to help? How does that look?"
Despite his comments, Knowles would still provide the funds and even though there were offers to use his name as a title sponsor, he would insist that you can use somebody else.
I appreciate the fact that no matter who you were, Knowles always took the opportunity to sit down and offer his assistance wherever and whenever it was needed.
There was never a time when you interviewed him or attended a press conference and he spoke that Knowles didn't have a punch line that left you grinning.
Knowles will be missed because of the influence that he brought to the sporting arena and the many charitable organisations like the One Bahamas Foundation and the Bahamas Association for Physically Disabled.
It was amazing that Knowles had a knack to clearly relate every detail of all of his experiences in competition, including the time when he won the prestigious Olympic gold medal.
He was an extraordinary Bahamian who excelled to the highest order, having been knighted by the Queen. He has indeed left a legacy that will be hard-pressed to be matched, not just as a sportsman but an icon. His funeral service is scheduled for 2pm Monday and his family is requesting that those in attendance at Ebenezer Methodist Church wear the colours of the ocean as they celebrate his life on the sea waves.
Although it's not a state or state-recognised service, maybe some consideration will be made to honour the memories of Knowles by naming something permanent in his name.
I wish to offer my deepest sympathy to his wife Lady Holly and children Randy Knowles, Jill Thompson and Charlotte Albury.
Your father was certainly a man for all seasons.
May his soul rest in peace.
Condolences to Speedo
While I'm at it, I wish to take this opportunity to also extend my condolences to the family of the late Austin 'Speedo' Albury.
I remember when I competed in track and field, Albury was one of those persons whom many looked up to because of the manner in which he competed in the sport.
Although we were in different events, Albury was one of the pacesetters for the sprinters and I got to watch on many occasions at the Thomas A Robinson Track and Field Stadium where he helped out many when he had finished competing.
He too will be missed as another one of those unsung heroes who never really got the kind of national recognition that he so rightful deserves, having represented the country on various national teams, including the CARIFTA Games. Albury's funeral is set for 9:30am Saturday at the Holy Family Roman Catholic Church.
Bethell passed away
As I was preparing this column, I also got news of the passing of another sporting great.
The softball community, especially on the island of Eleuthera, mourns the loss of Foster Bethell. Bethell was one of the country's top fast-pitch pitchers, having represented the Bahamas on the national team for a number of years in the era of 1960-80s.
The record would reflect that Bethell would have been one of the players who helped in the formation of the International Softball Federation when the Bahamas played in a tournament in Mexico in the early 1960s. Again, another unsung hero has gone home to take his rest. Funeral arrangements are to be announced at a later date.