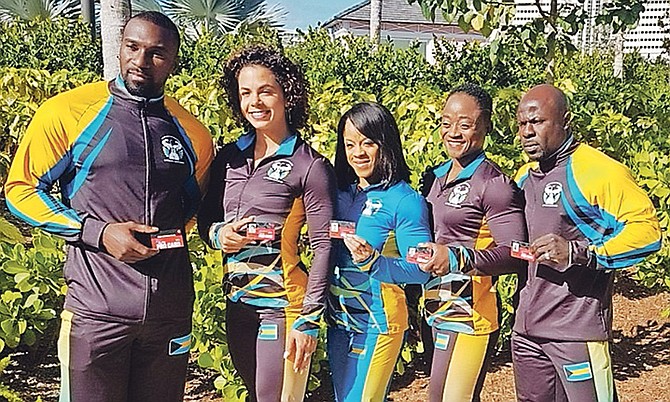 By BRENT STUBBS
Senior Sports Reporter
bstubbs@tribunemedia.net
Veteran Lorraine LaFleur and Jimmy Norius, along with Angelika Wallace-Whitfield, Tanya Moxey-Cleare and Enderich Rahming were the latest Bahamian bodybuilders to earn their professional cards in two different competitions over the last few months.
The pro cards were earned in Bogota, Colombia, in the Mr and Miss American Bodybuilding Championships and the Santo Domingo, Dominican Republic.
Joel Stubbs, now in his second four-term as president of the Bahamas Bodybuilding and Fitness Federation, said he's extremely pleased with the progress the Bahamas is making on the international circuit.
"I'm very pleased and proud of these athletes," said Stubbs, who retired from competing in 2012, but might decide to go into a masters competition in the future. "In the overall picture of our sport, only those who know, it's a very expensive and disciplined sport to be involved in.
"The athletes go through a very intense training and they have to diet, so it's not an easy sport. I am very pleased and proud of these athletes in achieving their goals of earning their pro cards."
At the initial competition in Colombia, LaFleur won the women's physique short class to receive her pro card and Enderich Rahming won the men's physique tall class for his card.
Joey Rolle also participated in the competition, placing just outside of the top three in the men's heavyweight bodybuilding, but will be heading to Aruba later this year on a quest to earn his pro card.
Terran Knowles competed in the men's physique short class. Although he won his division, he got beat out by Rahming in the overall posedown. Another four members participated in the Dominican Republic in the last tournament where Moxey-Cleare picked up her pro card in the women's physique as the overall winner, while Angelika Wallace-Whitfield earned her card in the women's bikini wellness. While he didn't participate in the Dominican Republic, Norius was awarded his pro card because of his performances over the years in the men's bodybuilding competition, including winning the gold medal at the Central American and Caribbean Bodybuilding and Fitness Championships held here in 2015.
The list of five now bring the total of active Bahamian pro card holders to eight. The others are James 'Jay' Darling, Lakiesha Miller and Jameil Hamilton, who are competing in the IFB pro league. There are other pro card holders, including pacesetter Charles Kemp, Natasha Brown, Jena Mackey and Joel Stubbs, but they are all inactive at the IBF level.
However, Stubbs said the competitors can all pay their annual membership of $250 to keep their pro status, but there are no penalties if they refuse to go back on the stage and compete.