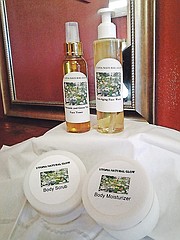 Achieving that so-called "natural glow" is often the ultimate goal skin care goal of women.
After working in two dermatology clinics and seeing how some of the chemicals irritated patients' skin, certified aesthetician Christine Gardiner decided to help women get the luminous skin they desire, but in a more natural, less harmful way.
She took a leap of faith and launched her own business – Utopia Natural Glow, an all-natural skin care product line.
"Natural products are better for your skin and health. What you put on your skin eventually ends up in your body and bloodstream. Research shows the healing powers of hand-made natural products, particularly when essential oils are included," said Mrs Gardiner.
"Using synthetics or chemicals on your body can irritate your skin at times. Your body will understand ingredients from the earth such as coconut, lavender, sunflower, burdock, calendula and so on. Natural products are great for sensitive skin, they do not clog pores and great for inflamed or irritated skin."
Still, owning your own business isn't for the faint of heart, according to the aesthetician who has been in the field since 2006.
Growing is exciting, but it comes with challenges. Some clients are skeptical as to whether the products are really all natural.
"I would always try to have samples on hand so they can try them. The key is to be patient and have a one on one consultation with your clients," said Mrs Gardiner, who took five years to develop her unique product line.
Now, she is looking to grow her business and her bottom line predominantly through word of mouth and social media.
"When you first bring your products to market and sales are slow, you begin to doubt yourself. However, you have to be patient and stay focus. When you are marketing your products, you are asking people to change and try something different," she said.
The 15-piece Utopia line includes facial cleansers, a body scrub an all-natural deodorant, moisturisers and sunscreen, stimulating hair growth oil, a Vitamin C serum and a pain oil for muscle, joints and arthritis.
Mrs Gardiner said her skin smoothing and clearing collection is different from others on the market.
"I produce and package my products, Utopia Natural Glow locally. As soon as you try them on you can feel and see a difference in your skin. Utopia means a state of perfection. For many, utopia is appearing forever young," she said.
"With most new products, it takes time to convince people to try them if it's not free or a high profile foreign brand. However, by putting the time and effort into properly branding and marketing your first batch of products then subsequent products won't be as difficult because you would have already established your core following and customer base."
From her Soldier Road base at Royal Image Beauty Salon atop Pure Crystal Water, Mrs Gardiner offers such services as professional relaxation therapy, pain management, hair frequency treatment (for balding and thinning hair), moles and skin tags removals, laser hair removal, facials and waxing.
Mrs Gardiner is also looking to shine a light on the possibility of people with learning disabilities being able to work in the beauty and skin care field.
"Many people don't know I have an autistic son. I want to train him and other autistic people to work in the business; a lot of people over look autistic people," said the aesthetician.
Mrs Gardiner is working tirelessly to expand her business.
"My goal is to be the number one all-natural beauty product company in the Bahamas with a global presence, utilising e-commerce sites like Amazon," she said.