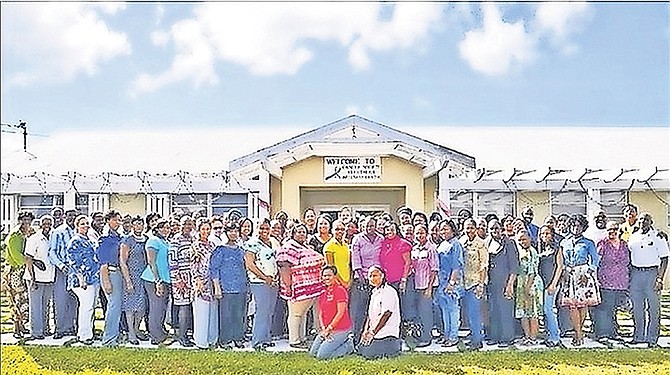 By JEFFARAH GIBSON
Tribune Features Writer
jgibson@tribunemedia.net
The Cancer Society of Eleuthera's upcoming fifth annual Hope Ball, while touted as a night of glamorous fundraising for the island, is also designed to bring attention to an important topic – colorectal cancer.
The event was expected to take place this Saturday, but had to be postponed. It will now be held on April 7 at the Cancer Society Wellness Centre located on Queen's Highway in Palmetto Point.
Chinnici McDonald, an administrator with the Cancer Society of Eleuthera (CSE), said the cause for the ball's postponement was due to another event happening on the island on the same night.
"We were well underway with preparations for the ball when we learned two weeks away that Junior Junkanoo on the island had been rescheduled for that same exact date. Though we are obviously two separate entities, the one thing we do not want to do is compete with each other and have people feel torn or guilty as to who to support. As our kids are our future, it felt it only fitting to amend our date to a more suiting one," she said.
Nevertheless, the event's postponement has granted the committee more time to produce an event guests are sure to remember.
"Our night will commence with our cocktail hour. Eleuthera's very own Freedom Marching Band (led by Mr and Mrs Andrew Lewis) will serenade us during this hour. Once the clock strikes 7pm, the audience should be prepared to be have a wonderful evening of love and laughter. This year we will be focusing on melanoma and bone cancer. We as Bahamians and a people in general tend to focus on breast cancer most of the time, so we decided to shift our focus to other prevalent cancers in the Bahamas; those that we don't necessarily pay much attention to," she said.
Ms McDonald said people can expect to have grand time as the CSE seeks to raise between $10,000 and $15,000 from the event.
The CSE will also highlight the cancer survivors on the island.
"As in most years, we recognise the many survivors of the island still fighting this dreaded disease. Though we are not forgetting them, it seemed only fitting to switch things up a little bit this year. We will be highlighting the many long-term volunteers who make sure that our Cancer Society building remains open. These volunteers – many of which have been around from inception – have helped in all facets, laid blocks, assisted with events, ran our thrift shop, been spokespersons on behalf of the society, and even fundraised to keep our doors open and fundraised to assist the survivors on island. As CSE is more than 90 per cent volunteer-based, it is only fitting that we recognise these people, she said.
The CSE has several few events slated for this year, including its "Mad Hatters & Tea Party" in April, a poetry slam in May and October, a prayer breakfast and wellness symposium in May, its annual walk-a-thon in October and the annual 'Music In the Gardens' event in December.
More like this story