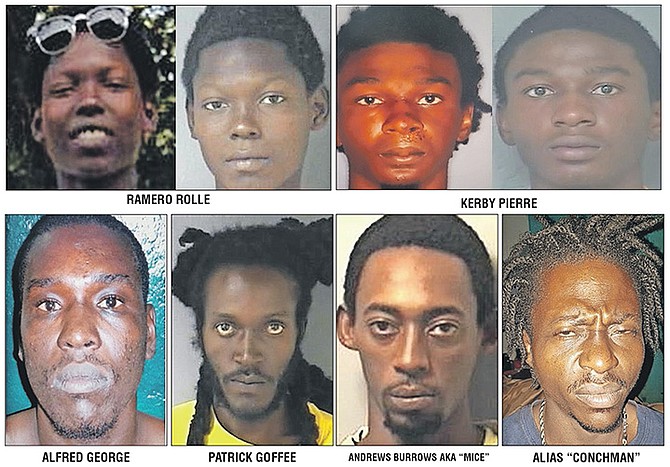 By RICARDO WELLS
Tribune Staff Reporter
rwells@tribunemedia.net
POLICE yesterday issued wanted bulletins for six men they believe can help with investigations into a number of recent murders in New Providence.
Assistant Commissioner of Police Clayton Fernander issued the bulletins during a press conference at police headquarters when he also announced the arrests and arraignments of several prolific offenders.
According to ACP Fernander, police want to speak with 18-year-old Ramero Rolle of Palm Beach Street; 24-year-old Kerby Pierre of Bacardi Road; 27-year-old Andrew "Mice" Burrows of Tyler Street; 28-year-old Alfred George of Knowles Drive and 33-year-old Patrick Goffee of Washington Street.
Police also want to speak with a sixth man who was only identified by his alias, "Conchman".
During the press conference, ACP Fernander said officers are doing all they can to uphold the safety and comfort of everyday Bahamians.
"I just want to take this opportunity to, first of all, give God thanks for guiding and protecting us as we continue this fight," he said. "Also, to thank the public who continue to support their police officers and continue to hold hands with us as we move forward to make this country a safer place to live.
"I also, on behalf of our commissioner of police, want to commend the hard-working officers, not only from the detective side of the fence who continue to go above and beyond to bring closure to these matters; but the uniforms (officers) are as well, who are working together as a team to continue this fight.
"This is the kind of results that you will get when you work as a team to get the best results, and that is what you are seeing play out here this morning.
"What I would like to say as well, investigations are like a puzzle and it is not easy when you find a body with no information.
"And the detectives who continue to go out there and dig and to partnership with members of the public; it is like a puzzle, as you move with your investigation you put a piece in.
"And as you continue to put the pieces together, you would get a perfect picture and that is what you are seeing play out here this afternoon," he said, referring to multiple arraignments in the Magistrate's Court yesterday.
ACP Fernander said police have no intention of relenting in the force's targeting of crime hotspots, crediting these actions with much of the intelligence used in solving recent cases.
He suggested the force would expand these efforts in coming weeks.
"We want to continue to target the hotspots and be more proactive to prevent these incidents from happening," ACP Fernander said.
"As you can see, the police officers, we have boost up our patrols within the communities.
"You would see into the evening, into the night, early morning, you could see police cars with lights flashing."