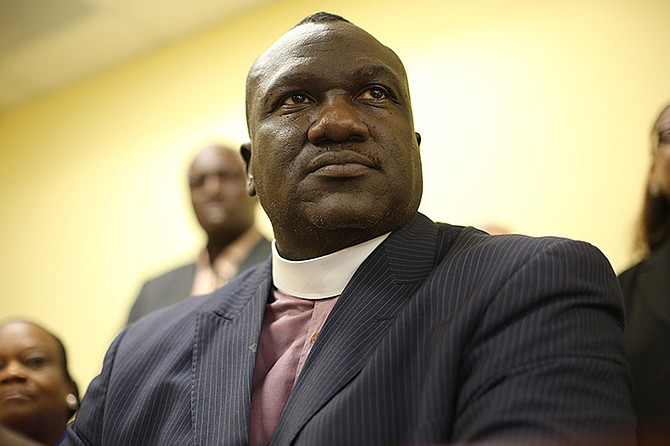 By AVA TURNQUEST
Tribune Chief Reporter
aturnquest@tribunemedia.net
THE Bahamas Christian Council yesterday released its proposal for a companion bill to the Sexual Offences and Domestic Violence Act that seeks to establish another advisory council to set rules for Bahamian marriages, legislate counselling and effect tax incentives for married couples who live together.
The BCC withheld its position on whether it would support proposed amendments, which would criminalise marital rape, until after the final bill is presented by the government.
However, legal counsel Michael Allen explained there has been a general consensus from the body on the need for a legislative approach to abuses that can occur within a marriage.
Mr Allen said the council's concerns centre on proving the abuse, and the strength and range of penalties; he added the council has suggested the sentencing tribunal is afforded the full range of options from counselling to life imprisonment.
It was also suggested the intervention of the attorney general in these matters be dropped, with an exception for cases involving people under the age of 21.
BCC President Bishop Delton Fernander yesterday said the council believes its companion bill, named the Sanctity of Marriage Bill 2018, will strengthen "God-ordained" marriages and offer corrective incentives that could prevent the incidence of abuse.
The proposed Marriage and Family Advisory Council would be chaired by a representative chosen from the BCC, and advise the minister of social services, according to the bill, which explains the council's objectives will include a review and implementation of national public education on marriage and family life, and the creation of a guide for marriage preparation that will be used by marriage officers to determine the eligibility of engaged couples.
It gives marriage officers the right to refuse to marry people if they are "not satisfied" both parties have been adequately prepared for or understand the contents of the marriage guide, adding the officer did not have to provide any explanation for his refusal.
However, the bill notes this section does not apply to the marriages of non-residents of the Bahamas.
Bishop Fernander yesterday restated the council's stance against all forms of abuse, but underscored it was a societal obligation to "fix some of the ills" that have been illuminated since the marital rape discussion was put back in the spotlight.
"We believe what was being presented to us (by government) was a law to fix marriages that were being challenged.
"We believe as the church we are mandated to do that which is necessary to strengthen God-ordained marriages," Bishop Fernander said, "to put those marriages in a position that they will never have to go before the courts, never have to fall into these categories if it is that the church can help in that regard."
The Sanctity of Marriage Bill introduces a "marital duty of care", an obligation for married couples to treat each other with due regard, care and respect in an understanding manner, demonstrating a commitment to the welfare and meeting the needs of the other party as they would reasonably "wish" to be treated.
An aggrieved spouse under this section can then apply to a magistrate for an order mandating the pair seek marriage and family counseling, pay fees, and reappear to provide evidence of compliance with that order.
The legislation suggests a ten per cent reduction in annual car licence, driver's licence, and real property tax fees for married couples that can prove they have been living together for a period of six months. Eligible couples would fill out a form that, once notarised, would represent a "certificate of residing together".
Bishop Fernander continued: "To assist with implementation of a national educational plan, for the education of marital couples and family, maintaining what we call a healthy marriage. We don't just want to give these ideas to the state, we are now going to mount a national campaign to assist marriages. We will do work necessary as a council to make our nation healthy again, to make our marriages healthy."
The proposed Marriage and Family Advisory Council, according to the bill, would consist of two marriage officers, a family law attorney, a marriage and family counseling professional - all chosen by the Social Services minister and a representative chosen by the BCC.