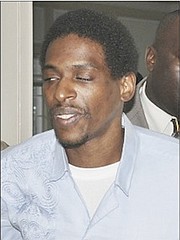 By NICO SCAVELLA
Tribune Staff Reporter
nscavella@tribunemedia.net
A MAN seeking to challenge his half-century sentence for murdering his 15-year-old girlfriend at a sports bar in Grand Bahama four years ago will receive a court-appointed lawyer for his appeal application.
Appellate Justices Stella Crane Scott, Roy Jones and Milton Evans yesterday granted Basil Black's request to be appointed an attorney at the public's expense to aid him in contesting his 55-year sentence for murdering Alexis Smith in 2014.
The matter was adjourned to May 9 for mention.
On March 8, 2016, Black was found guilty of murdering Smith, who was shot to death outside the Platinum Sports Bar in Eight Mile Rock during the early morning hours of March 30, 2014. He was sentenced on June 17, 2016.
While giving previous testimony under oath, Black said he and Smith had lived together and were involved in an intimate relationship. He claimed he never knew her age.
Black claimed the day Smith was killed, they were both at a sports bar when, at one point, the victim told him she was drunk and walked outside. After she did not return, Black said he went outside where he saw her lying on the ground in a pool of blood.
He said he subsequently felt her stomach and checked for a pulse.
"I asked Alexis what happened, and I was over her body," he said during the trial. "I saw police lights flashing and I remembered I had drugs on me; I sell powder cocaine in little packets in the club and that's how I make my money.
"I ran to the basketball court and then I went home to sleep."
Black was arrested the next day at his home.
Prosecutor Erica Kemp maintained that Black shot Smith because he became jealous after seeing her dancing with other men at the bar. During the trial, it was noted Black tested positive for gunpowder residue on his hands.
Black had claimed when police officers arrested him at his residence in Pinedale, they took him in bushes in Holmes Rock where they gun butted him in the back and the gun accidentally discharged, thus explaining how he had gun residue on his hands.
However, there was also evidence that while in prison Black had contacted a friend, Joshua Demeritte, and told him where he hid the gun and asked him to retrieve and sell it.
While attempting to sell the gun, police arrested Demeritte. The gun was sent to a forensic lab where it was tested. The projectile removed from Smith's skull was compared with the one police had fired from the gun and it was determined the same gun was used to kill the teen.
Additionally, the prosecution called three eyewitnesses, who testified they saw Black, in the early hours of March 30, pull a silver gun from his pocket and shoot Smith in the back of the head. The witnesses all testified they knew Black.
It was also noted during trial that the three eyewitnesses had also identified Black in a police photo line-up as the shooter after he had refused to participate in a police ID parade. Three separate photo line-ups were conducted with Black's photo placed in different positions among a line-up of 12 individuals.
More like this story