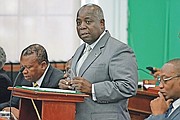 By KHRISNA RUSSELL
Deputy Chief Reporter
krussell@tribunemedia.net
OFFICIAL Opposition Leader Philip "Brave" Davis has written to Ernst and Young's global office requesting a peer review of the Bahamas branch's audit practices after being forewarned that he is named in another EY report, this time regarding the Water and Sewerage Corporation.
This is the second audit by EY in which Mr Davis is named. Last November auditors mentioned Mr Davis in a report, which said during his tenure as works minister his brother had been awarded two Bahamas Electricity Corporation contracts. Mr Davis later revealed he intervened to have the contracts halted and insisted he was never asked by EY to put the findings into context.
That audit did not say Mr Davis awarded the contract or accuse him of any wrongdoing. It did reveal that while two BEC executives wanted to award these contracts to two different companies, then-BEC Chairman Leslie Miller wrote to the officials directing them that BEC's board had requested the contracts instead be given to AL D's Construction & Roofing, owned by Mr Davis' brother.
Speaking to reporters yesterday, Mr Davis said he believes the firm is being used for political gain by the government. However, he said he was not concerned about the WSC audit.
He said: "I was advised when the prime minister was talking about the corruption and being tasked to identify what he termed to be massive corruption (last week) he said to me, 'sit down because a report is going to come out for Water and Sewerage and your name is in it'.
"Well I am not concerned about that to tell the truth. I am concerned about fairness and being balanced in the reporting.
"I did mention to him that earlier that day the minister of works mentioned to me that they are going to lay a report about Water and Sewerage and that my name appears in that report. I questioned him to tell me what it is in connection with, what are the details of my name being in the report and the circumstance under which my name finds itself in the report.
"He indicated to me that he could not tell me, so I said 'it didn't make sense you telling me in the first place if you can't tell me what is in there' and that's what was left of that. I just walked away from him."
He continued: "But during the course of the debate, when challenged, the prime minister saw it fit to mention it in Parliament again. Well what disturbs me is the manner in which this government is witch-hunting and going around smearing and scandalising persons' reputation without any regard for human decency."
In a letter to Mark Weinberger, global chairman and chief executive officer of EY, Mr Davis pointed to this situation saying there appeared to be a gap in the procedures used during the forensic audit.
Concerning this new audit, Mr Davis said EY officials did not extend the courtesy of a phone call or an interview in the interest of fairness and balance. He called on Mr Weinberger to jealously guard EY's brand. He said if by chance the Free National Movement is involved in a high-profile witch-hunt, it was necessary that EY is not seen or perceived to be facilitating such an exercise.
The letter read: "As you might be aware, I was publicly named in a recent audit by Ernst and Young and accused of wrong doing, specifically a conflict of interest citation, in my capacity as a Cabinet minister in the area of contract administration in relation to a government corporation, the Bahamas Power and Light which was assigned to the portfolio of the Ministry of Works, a ministerial post held by me between 2012 and 2017. I was never notified or allowed the opportunity to respond to this so-called audit 'finding'. This 'finding' or citation proved to be false and the current minister of works admitted to the error and issued an unqualified public apology to me only after the charged were vigorously refuted by me with supporting documentation.
"On the face of it, there appeared to be a gap in the procedures used during the forensic audit as a simple phone call or an interview could have diffused the entire redundant matter and the confusion and embarrassment it caused. This matter is presently before my legal counsel for advice and action if it determined that it is appropriate in the circumstances.
"Sir I do not have to tell you that forensic audits and the published findings can and have had far reaching implications for individuals, institutions both public and private, the governments and by extension, society. For this reason I am respectfully requesting a peer review of the standard auditing and reporting procedures, practices and processes of your Bahamas based strategic business unit…"
More like this story