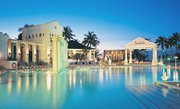 By RICARDO WELLS
Tribune Staff Reporter
rwells@tribunemedia.net
A BAHAMIAN limousine driver has accused a local luxury resort of operating a car service to high-end guests which deprives registered industry drivers of a large percentage of revenue.
Kendal Culmer told The Tribune that limousine drivers are being "shelved daily" by the Sandals Royal Bahamian Resort, which has opted to service high-end clients with a luxury car service operated in-house for much of the past decade.
Mr Culmer said he has raised his concerns with the Road Traffic Department, successive governments and the resort itself. He thinks local limousine drivers should be hired to carry out the service in accordance with the Road Traffic Act.
Section 64.1.B of the act states: "No motor vehicle shall be driven or used for the carriage of passengers for hire or reward unless it is a motor vehicle - which is licenced under this act as a taxi-cab or livery car or is driven by or by a person employed by the holder of a franchise."
Section 64.2.B states: "No motor vehicle other than a motor vehicle licenced as a taxi-cab under this act shall stand for hire in any place designated by the controller or by any regulations made under this act as a taxi-stand."
Mr Culmer believes Sandals' service is unfair to limousine drivers and thinks the resort should not be allowed to operate a luxury car service of its own.
"This isn't right, nor is it fair," he told The Tribune. "...Atlantis for example, they sub-contract their luxury car services to companies permitted to operate in the industry or drivers already in it. All of the other resorts do the same.
"Sandals, as far as I know, they have sub-contracts with services for the transportation of regular guests. It's their high-end guests. They have several luxury vehicles registered to the resort that they send out for their high-end guests."
When contacted by The Tribune for clarification about the complaint, Road Traffic Controller Ross Smith said he has heard concerns regarding the issue for years, but insisted the resort was protected by its heads of agreement with the government.
Mr Smith said the resort is within its rights to carry out the service.
In a statement to The Tribune this week, Sandals General Manager Gary Williams said: "Having reviewed the facts, the law and the manner in which we have executed our services, we firmly believe that Sandals has operated and continues to operate its luxury car service within the boundaries of the law.
"Sandals has the necessary permission from the relevant statutorily mandated authorities to render the services it offers."
Mr Culmer, who has operated in the industry for more than 12 years, said he will continue to raise the matter.
He said: "Today it may just be me, but I am sure other drivers hear what I am saying and are becoming aware of this. My goal is to make this issue known. I will not be silenced and I will continue to press the matter."